Sheila,
Tai has adapted very well to her new home. She likes the toys I got her. Thank you for sending that pink round ball, she really enjoys that one, it must smell like her other mom. Who would have thought! My husband is enjoying her as much as I am!
Did you know she has a little diva temper? I brushed her yesterday and then took a face cloth to her face. She started yipping at me like she was going to rip my head off, I still don't know if she was saying " that's enough " or she doesn't like facecloths🤷‍♀️.she wouldn't give me a kiss for an hour. I took her out today just twenty minutes went by before I took her out again and she yipped at me again (and I mean furiously!) It's like she was saying " I just went" !! She has such a big personality, I love 💕 her!
She does miss you but I'm doing my best to win her over, she does like me. If you asked me about her personality yesterday I'd say she was passive yesterday but she's rambunctious today .She is the most amazing thing! I love her so much, thank you!!
Hope Ernie had a great time in Boston! He's pretty funny , I approached him at the airport and asked if he was Ernie, he said no, (ha ha)he was holding Tai but walked a few steps before he said yes!!
Promise I won't email you every night but you made my life so much better!
You need testimonial or reference you can use me.
I still don't know what you're talking about her teeth
Thank you so much, Tai say 😘😘
Sheila, wanted
to write and let you know that I am in love for the THIRD time with 3 of your Pomeranians
! Beezle Bugg (aka Buttercup)
Twitter Bugg (Creamy & Icee pup)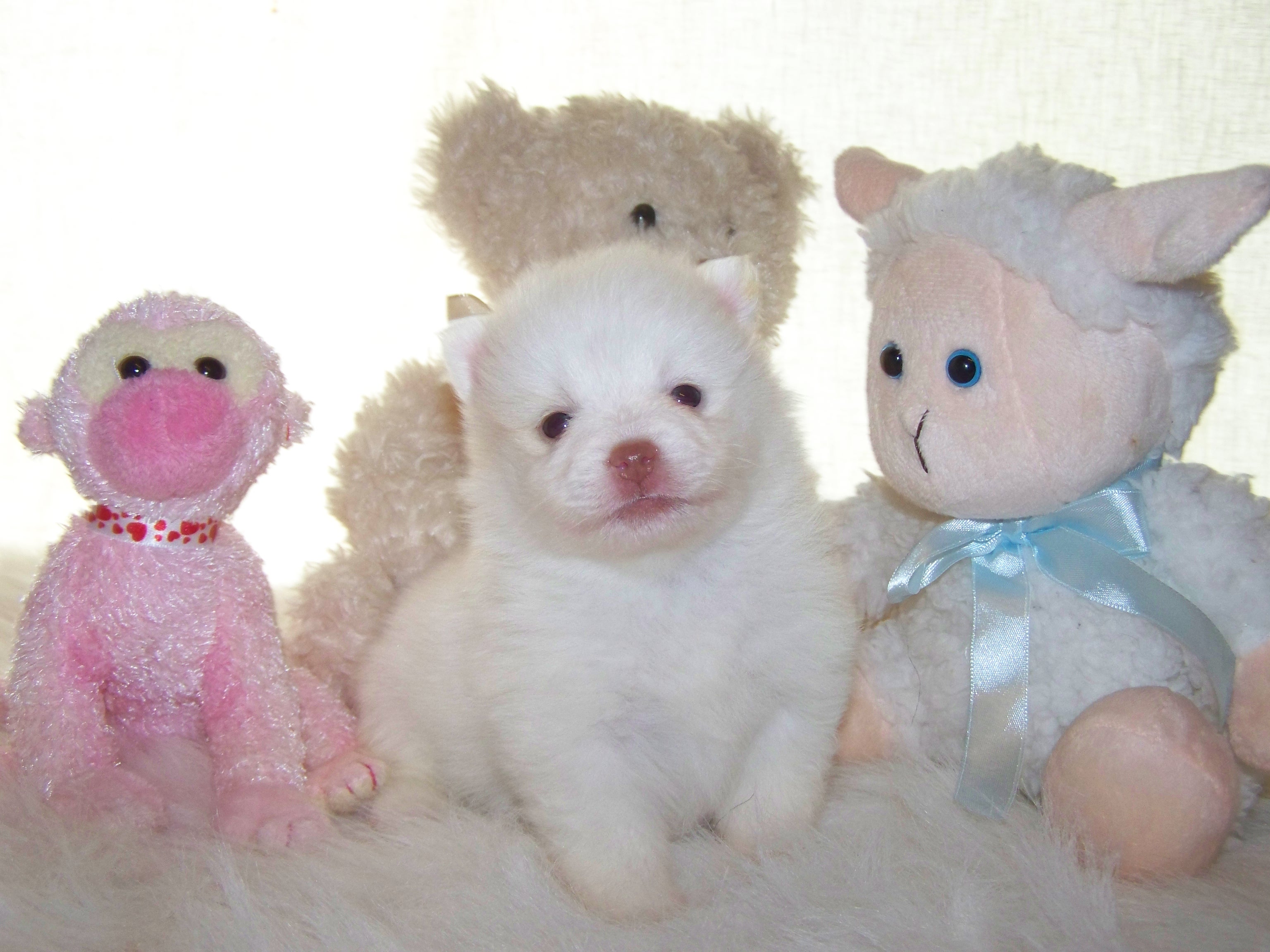 ......
and my newest Bitty Bugg (aka Nina) .....
.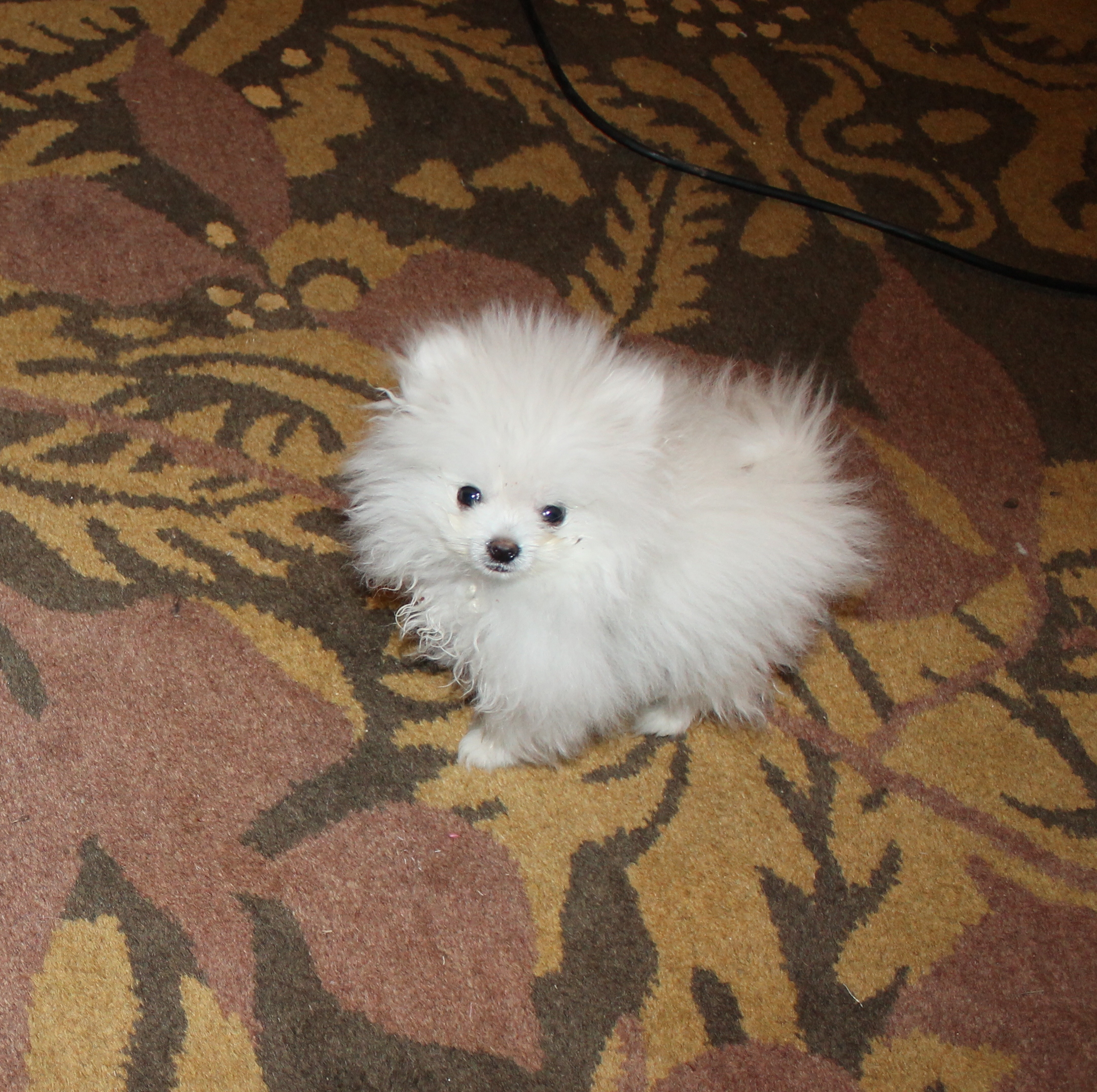 ..........are so consistent in small size & sturdy compact body type, priceless little teddy bear faces, extreme luxe coats and endearing stable personalities. Again, do I sound in love? Thank you for your devotion to the breed and high standard.

--

Be the difference in life...../Carrie
here is a new up date on BEEZELE BUG , TWITTER BUGG AND BITTY BUG ... from their Mom Carrie 12/23//2012..............
My dear sweet Sheila. I had the best intentions of taking/sending pictures of the Bugg trio. Unfortunately none of which was accomplished. Ah, the stress of all that needs being done at Holiday time. So an update report is what I humbly offer:

Beezle Bugg update: As you mentioned when she came to me after having her last litter of prized pups, she was in superb condition however in varying stages of coat loss. You mentioned this was "normal" and I love her happy smile. NEVER did I realize a year later that the same dog would be almost unrecognizable. Same sunny smile but she has a coat that drags the floor; so thick and heavy that it appears that the ball of fur comes alive and moves! Sweet personality, she has taught me a lot about being a loving alpha Mom whose strength is in her softness

Twitter Bugg update: Beezle immediately accepted Twitter as her charge from the moment he arrived. Twitter is near a year old. Remember how we were stopped at the airport by adults, children, even pilots and stewardess'. Quite the celebrity... people even asked to have their picture taken w/him! Now near a year old and after dessert he weighs just under 4 pounds! He is the most athletic little fella and loves to initiate everyone chase him. The only time he looses the lead is when he glances about to see the distance between he and the others. The vet is impressed with Twitter's perfect joints, bone, stature, and personality. I did ask the vet if he could turn down Twitter's batteries a bit. He said that he is just a healthy, happy youngster. Twitter continues to be first in line to introduce himself to everyone/anyone he meets. I don't think by this time next year we will be able to find him in his coat.

Bitty Bugg update: Another Momma dog that you graced me with after her second C section, spay and litter of pups, her peaceful nature has found peace and a place in the pack. After two months her coat although growing back is so thick it can't be parted. She has turned into Miss Piggy, a 9 inch cube! She plays like a puppy but cuddles like an old dog. When sleeping she looks like a furry caterpillar. Downsized with the children gone, the house is full with the patter of paws......I find myself laughing at their antics and always have room in a big reading chair for all three. Partners to go walking with, people always make comment and I have heard them say that as they march in unison like soldiers on a mission....ha ha ha.

Thanks Sheila, this year has truly been a THREE FOLD blessing! I appreciate your entrusting me w/your fine dogs, travelers all.

Happy Holidays to you and yours, Carrie



--
Be the difference in life...../Carrie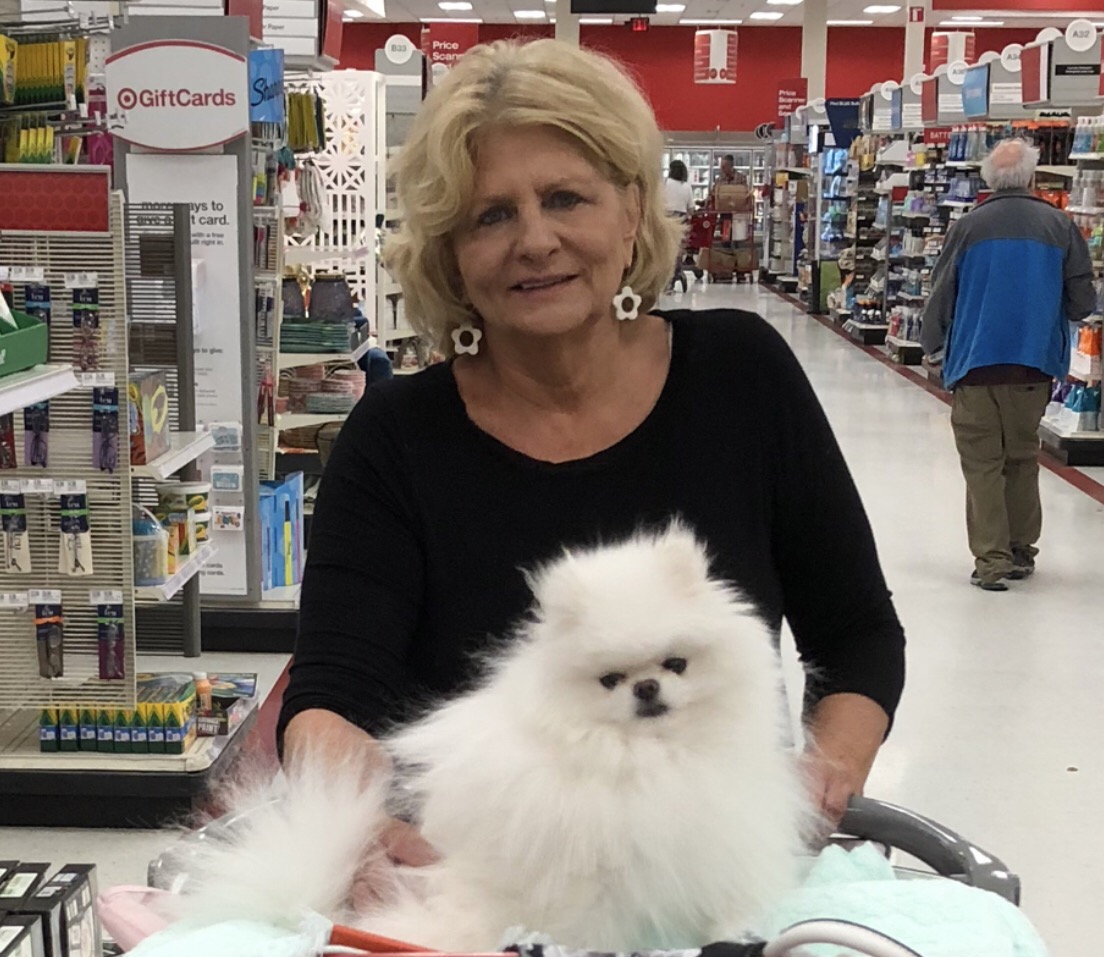 Hi Shiela !! This is Rosetta,
It was a pleasure talking with you today.
Here are some pictures of Mia (Joy). Isn't she just gorgeous ?? .......................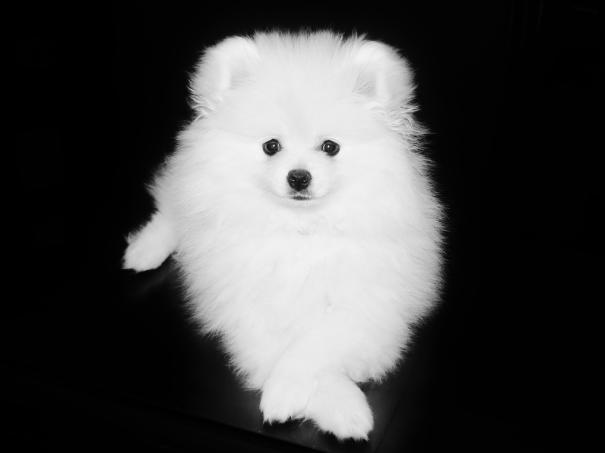 Shiela, This beauty that we purchased from you is our pride and joy. We Love her SO MUCH !.................
We also want to Thank You for making us so Happy in bringing Mia (Joy) into our lives.She is very special to us. Also we have never dealt with a more amazing woman than you. Anyone can see how much you care and love these babies. You do an amazing job !! If anyone that I know wants to buy a Pomeranian you surely will be Highly recommended from us.You are a wonderful person and breeder to have dealt with. Also you have the cutest Pomeranians that we personally have ever seen. Thanks Again Shiela
Sheila,
Chanel ( Kha'risma ) is such a joy!
You did an excellent job in training her. She is so well mannered.
Although she is very very active. Tomorrow we are going to the Vet and then to my office.
Everyone is so excited about meeting her.
I will like to say thank you for bringing Chanel in my life!
( below are pictures of Chanel that her new owner took ..in her new home ....looks like Chanel will be living the life of LUXURY !)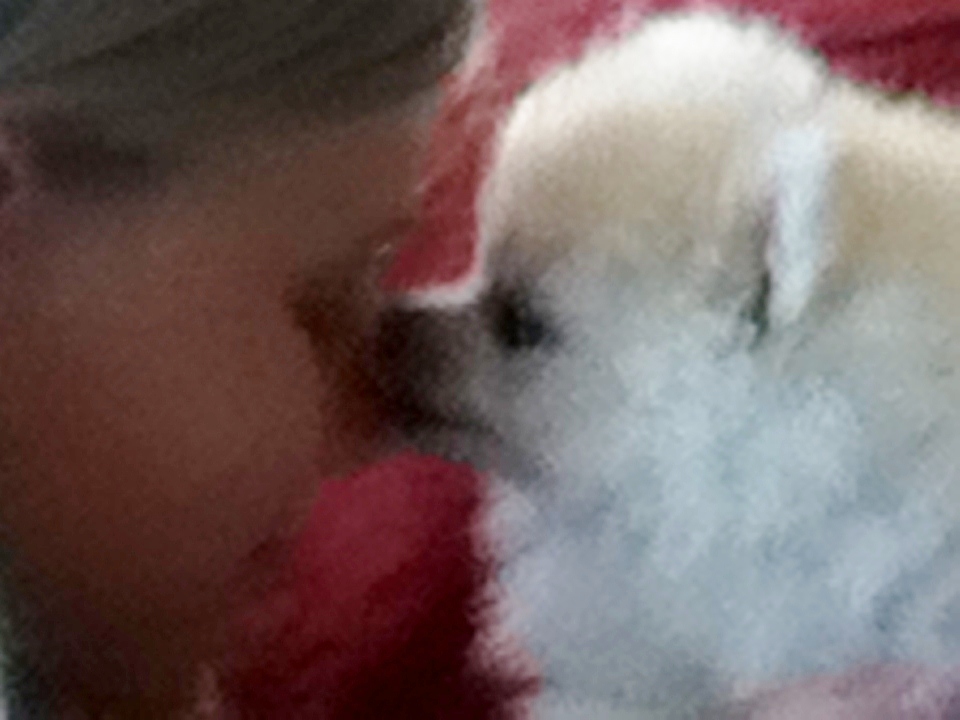 Hi Sheila , .....my grand daughter was taking pictures today on her i-Pod touch. Wanted to forward so you could see our little loves! Thanks for my companions ( The orange Pomeranian in the picture above is one of my "Retired Girls" that I placed with her )
Sheila, Took him to the vet for his 2nd set of shots and weigh in. He is 11 weeks old and still weighs only 25 ounces !!! . He loved everyone and everyone loved him. Funny, he bounces and hops and is doing wonderfully on a harness and leash. Beezle had a grooming and did (as you already said she would) marvelously. The groomer raved over her manners and coat. Sheila , thank you so much for these two wonderful additiond to our family.........
DAINTY IS EVEN PRETTIER THAN WE EXPECTED , THANK YOU SOOO MUCH SHEILA.
Sheila , he arrived safely . Thank you so much for ll the information on potty training . He is all hair .... that's OK though , we love him
My kids are in love ! Madison has not stopped since she arrived. She is like an energizer bunny . Will she ever tire out ? My children have not stopped playing with her and we all love her she is adorable and soooo small Thank you so much for our little Angel
I am so glad I found you Sheila ! You bred amazing Pomeranian's I can tell you are not a typical breeder . You obvious;y care about the breed and it shows in Ollie . I will recommend you to anyone who asks where I purchased got Ollie! He is a wonderful boy !
Thank you!
Jodi
My girlfriend loved her Thanks
She is even more than I expected , Thank you for the update and the phone call . Her flight was uneventful and We love her Thank you for such a healthy and happy girl
HER BIG BROTHER LOVES HER . THEY HIT IT OFF RIGHT AWAY . SHE WAS A LITTLE SHAKEN WHEN i TOOK HER OUT OF THE KENNEL AT THE AIRPORT BUT SOON WAS RELAXED AND HAPPY . SHE IS SO PRETTY I LOVE HER
SHE IS A STAR !! I WANT ANOTHER ONE ... !!!
Hi Sheila,
It was great speaking to you earlier about our little girl Christy. Thank you for all the great information you gave and allowing me to opportunity to call back as questions arise. We have totally falling in love with Christy and can't believe how beautiful she is and how smart. We are having so much fun with her and she sure is mending the pain we had from loosing our 1st Christy Noel.
I will recommend you to anyone looking for a first rate operation and breeder Sheila. Our Christy is absolutely above anything we could have imagined. She seems very smart and learning quickly. She makes my husband and I laugh with her little tricks and antics. We took her to our vet as you suggested and she again was given a good bill of health. She has her first grooming trip this Thursday and the groomer can't wait to work on her and she is great. The vet and techs have all fallen in love with Christy as well.
Christy loves to steal my slippers and hides them in her toy box. When we play fetch wtih her, she runs and leaps into her toy box with the toy she has retreived.
We think it is so funny that when she yawns, she sounds so funny because she makes such a sound doing so. She sounds like a little old lady. lol
Well, thank you again Sheila, we are truly blessed to have out little girl and know she will bring us years and years of joy and laughter.
Best wishes,


--
Shirley Brownley