Welcome to our Website .
We have been Breeding White Pomeranian's for many years and we have the absolute most beautiful TINY White Pomeranians you've ever seen here in the United States
Currently we have some very tiny females available . Lily ( below) is the smallest of all the females we have available . she is four months old now and still weighs only ONE POUND !!
She is charting out to be a 2 pound adult !! if you would like more information about Lily please call or Text me at 928-550-5020
We have a Sterling Reputation and have a long list of referrals we can supply to you.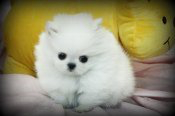 ABOVE LILLY. 6. WEEKS OLD ....BELOW LILLY is 3 months old and the last picture is a current picture of Lilly at 4 months old