ABOVE IS A SIZE COMPARISON OF ADULT POMERANIANS OWNED BY ME PAST AND PRESENT . THEY RANGE IN SIZE FROM A 2 POUND ADULT TO A 12 POUND ADULT.
Price List for my Puppies
PRICES START AT $2k AND UP DEPENDING ON SIZE AND QUALITY
Price is based on estimated adult size and quality , NEVER ON COLOR. WE BREED WHITE ONLY TO ESTABLISH PRICE OF PUPPIES. , An Arizona State Licensed Veterinarian will completely examine the puppy at 7 weeks of age during the scheduled Complete Health Examination. and based on a current accepted weight chart ,( see below in pink ) the Veterinarian will put the estimated adult size on the health Certificate. This is an estimate. We can not guarantee that the puppy will be that size ,
it is just an estimate. BUT , It is what we will base the Price on .
I REPEAT , THIS IS JUST AN ESTIMATE, WE CAN NOT GUARENTEE ADULT SIZE.
Males $2,000 AKC (with proof of neuter) pet quality white males charting out to be OVER 7 pounds adult size at the time of 7 week health examination .
..that are NOT PERFECT . Bite off , loose patellas, open font etc. THEY WILL BE FIXED
Males $ 2,500 AKC ( with proof of neuter) pet quality White males charting out to be OVER 7 pounds , NO DEFECT , correct bite , tight Patellas , good heart, hips etc. testicles not an issue , they will be fixed
Below is an example of an adult Pomeranian bred here at Yuma Pomeranians . Despite his beauty, this is not the SIZE that should be bred. Although very beautiful the was was charted at 12 pounds at 4 years old !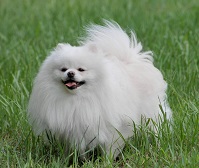 $3,000. LIMITED AKC / White males that are charting out to be BETWEEN 6 and 7 pounds at the time of 7 week health evaluation . with a correct , bite, coat, font, Patellas , Hips etc. These males will come with a detailed Health Evaluation signed and dated by an Ar
izona State Licensed Veternarian confirming the following:
Both testicles can be felt
Color is confirmed as WHITE
Please note to keep the bite correct the buyer needs to have the puppy teeth pulled if they do not fall out on their own
To keep the puppy from getting too big the buyer has to feed only DRY dog food brand the Breeder recommends.
$3,000 AKC Females charting out to be over 7 pounds adult size at the time of 7 week complete. Veterinary health examination . Will come with full AKC .
SOMETIMES BIG IS BEAUTIFUL
AS IN THE CASE OF ANGEL BELOW ,
a beautiful Adult female Pomeranian here at Yuma Pomeranians ( she is not for sale) that is 9 pounds , although very large a Pomeranian female this big can be bred if we determine the people we sell her to will breed her responsibly
$
4,000
FULL A
KC BREEDING QUALITY Registered

MALES OR FEMALES CHARTING OUT TO BE UNDER 7 pounds but OVER 6 POUNDS ADULT SIZE at the time of their 7 week complete health check up by a Arizona State Licensed Veterinarian ,
Below is an example of a 61/2 pound Pomeranian sold by Yuma Pomeranians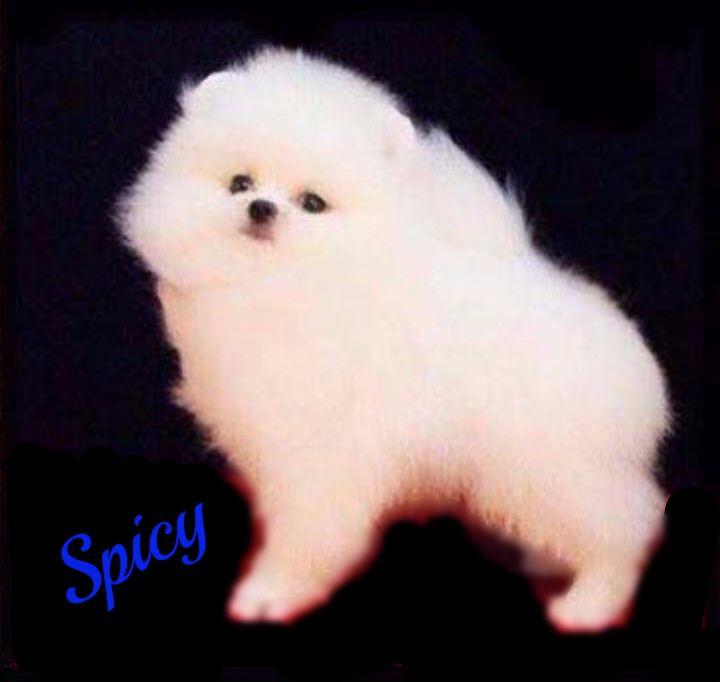 $5,
000 AKC Registered males or females that are charting out under 6 pounds adult size that we do not give a Show guarentee on
Below is an example of a 4 pound adult that is $5k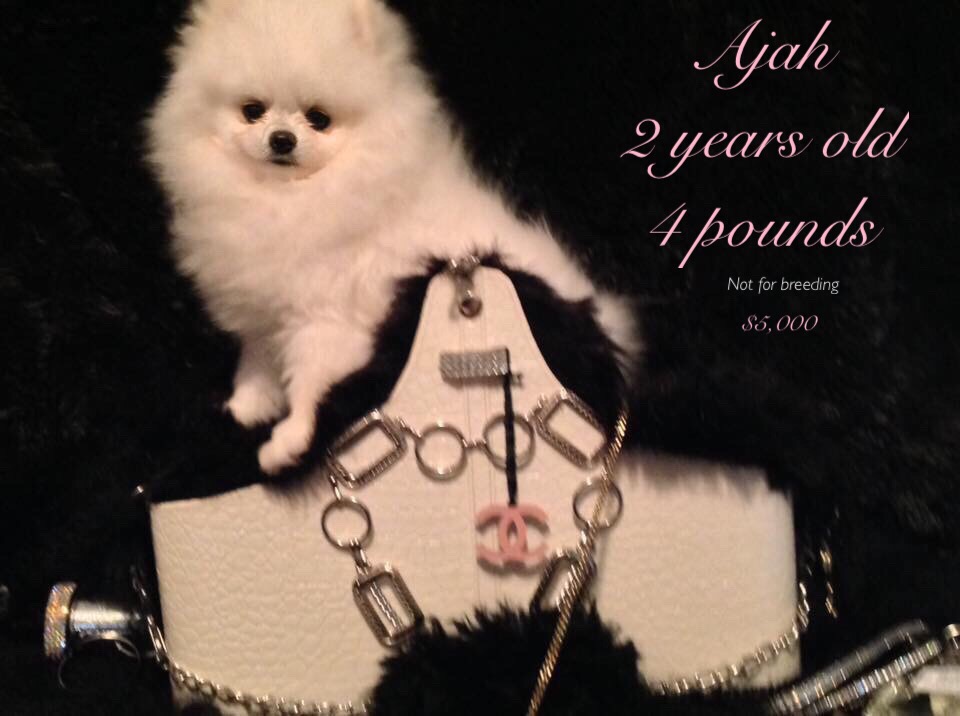 $6,000 and up MALES OR FEMALES THAT ARE CHARTING UNDER 6 POUNDS ADULT SIZE AT THE TIME OF THEIR 7 WEEK CHECK UP THAT WE GIVE A BREEDING / SHOW GUARENTEE ON BECAUSE TO THE BEST OF OUR KNOWLEDGE WE. BELIEVE THIS DOG WILL BE BREEDING/ SHOW QUALITY .ON THESE DOGS WE WILL GIVE A REPLACEMENT BREEDING / SHOW QUALITY PUPPY IN EXCHANGE , IF FOR ANY 'REASON THIS DOG CAN NOT BE BRED OR SHOWN IN AN AKC SANTIONED SHOW
Below is an example of a Show quality Pomeranian sold by Yuma Pomeranians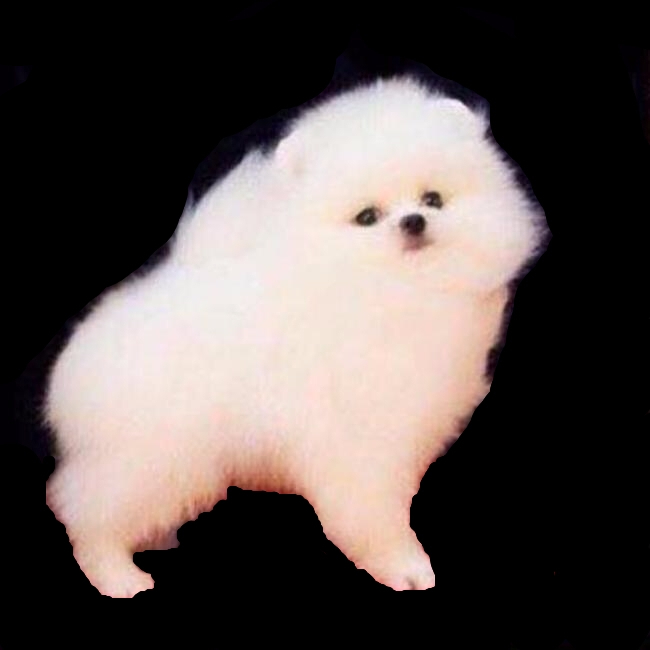 SUPER TINY WHITE POMERANIANS UNDER 4 POUNDS AS ADULTS ARE RARE
They Start at 6K and
are very rare indeed . When I get a puppy like this that is charting out to be under 4 pounds as an adult , I give a size guarantee as well as a color and a three year health guarantee. Price will be based on size and quality . Tiny Poms like these can not leave here until they reach two pounds Which will be between 13 and 15 weeks old....and prices for these TINY TREASURES start at AT 6K AND GO UP FROM THERE / ACCORDING TO QUALITY AND SIZE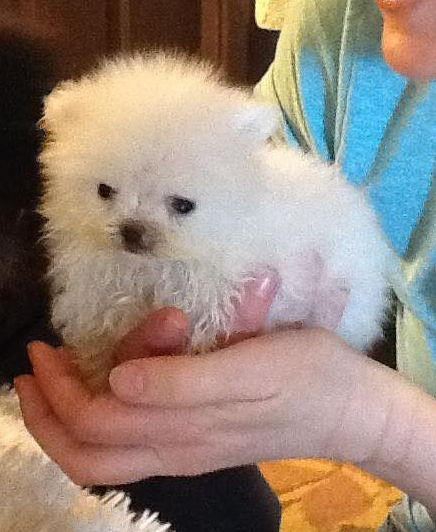 IDEALLY I WOULD LIKE ALL MY PUPPIES TO GO TO PET OR SHOW HOMES .....BUT WILL SELL TO A BREEDER WHO I KNOW WILL TREAT THEM AS PETS AND KEEP THEM AS HOUSE PETS ..
~ THIS IS A PUPPY WEIGHT CHART. IT'S ONLY A GUESSTIMATE
AS PUPPIES CAN BE SMALLER OR LARGER THAN THE CHART SHOWS.
If you are interested in one of my Pom babies you may contact me below!
I hope you enjoyed your visit to Yuma Poms!

Puppy Weight Chart
Pomeranians
| | | | | | | | | | | | |
| --- | --- | --- | --- | --- | --- | --- | --- | --- | --- | --- | --- |
| Birth | 2 1/2 oz | 2 3/4 oz | 3 oz | 3 1/2 oz | 4 oz | 4 1/4 oz | 4 1/2 oz | 5 oz | 5 1/2 oz | 6 oz | 6 1/2 oz |
| 1 Wk | 3 3/4 | 4 | 5 | 5 1/2 | 6 1/2 | 7 | 8 | 9 | 9 1/2 | 10 1/4 | 11 |
| 2 Wks | 5 | 5 1/2 | 6 1/2 | 7 | 9 | 10 | 11 | 12 1/2 | 13 1/2 | 14 1/2 | 16 |
| 3 Wks | 6 | 7 | 8 | 9 | 11 | 13 | 14 | 16 | 17 1/2 | 18 1/2 | 20 |
| 4 Wks | 7 | 8 | 9 1/2 | 11 | 13 | 15 | 17 | 19 | 21 | 23 | 24 |
| 5 Wks | 8 | 9 | 11 | 13 | 15 | 17 | 19 1/2 | 22 | 24 | 26 | 29 |
| 6 Wks | 9 | 11 | 12 1/2 | 15 | 17 1/2 | 20 | 22 | 24 | 27 | 30 | 32 |
| 7 Wks | 10 | 12 | 14 1/2 | 17 | 19 1/2 | 22 | 24 1/2 | 27 | 30 | 33 | 35 |
| 8 Wks | 11 | 13 | 16 | 19 | 21 1/2 | 24 | 27 | 29 | 33 | 36 | 39 |
| 9 Wks | 12 | 15 | 17 1/2 | 20 | 23 | 26 | 29 | 32 | 35 | 39 | 42 |
| 10Wks | 13 | 16 | 19 | 22 | 25 | 28 | 31 | 34 | 38 | 41 | 45 |
| 11Wks | 14 | 17 | 21 | 24 | 27 | 31 | 34 | 37 | 40 | 45 | 49 |
| 12Wks | 15 | 19 | 22 | 26 | 30 | 33 | 37 | 41 | 45 | 49 | 53 |
| 13Wks | 16 | 20 | 24 | 28 | 32 | 36 | 40 | 44 | 49 | 53 | 57 |
| 14Wks | 17 | 22 | 26 | 30 | 34 | 39 | 43 | 47 | 52 | 56 | 60 |
| 15Wks | 19 | 23 | 28 | 32 | 37 | 41 | 46 | 51 | 56 | 61 | 65 |
| 16Wks | 20 | 25 | 30 | 34 | 39 | 44 | 49 | 54 | 59 | 65 | 70 |
| 17Wks | 21 | 26 | 31 | 36 | 41 | 46 | 51 | 57 | 62 | 67 | 72 |
| 18Wks | 22 | 28 | 33 | 37 | 43 | 48 | 54 | 60 | 65 | 71 | 76 |
| 19Wks | 23 | 29 | 34 | 39 | 44 | 50 | 56 | 62 | 67 | 72 | 77 |
| 20Wks | 24 | 31 | 35 | 41 | 46 | 52 | 58 | 64 | 70 | 76 | 81 |
| 21Wks | 24 | 31 | 36 | 42 | 48 | 54 | 60 | 66 | 72 | 78 | 84 |
| 22Wks | 25 | 32 | 37 | 43 | 49 | 56 | 62 | 68 | 74 | 80 | 86 |
| 23Wks | 26 | 33 | 38 | 44 | 50 | 57 | 64 | 70 | 76 | 82 | 88 |
| 24Wks | 26 | 33 | 39 | 45 | 51 | 58 | 65 | 71 | 78 | 84 | 90 |
| 25Wks | 27 | 34 | 40 | 46 | 52 | 59 | 66 | 72 | 79 | 86 | 93 |
| 26Wks | 27 | 34 | 40 | 47 | 53 | 60 | 67 | 73 | 80 | 87 | 94 |
| 18 Mths | 2 lbs | 2 1/2 lbs | 3 lbs | 3 1/2 lbs | 4 lbs | 4 1/2 lbs | 5 lbs | 5 1/2 lbs | 6 lbs | 6 1/2 lbs | 7 lbs |
e mail me at :
ArizonaPomeranians@Gmail.com
or call me at :

(928) 550-5020

Sheila