This is "The Toy Boy" AKA Cotton ! He will be flying home to his new mom on Friday 12/ 7 / 2012
He was born 8/5/2012 by C Section and will be 17 weeks old when his new owner Karen meets him for the first time. As you can see inthe picture below , he has already started loosing his beautiful puppy coat !!!!! .............so I hope she is not shocked when she sees him for the first time.... He looks almost EXACTLY like his father Icee did at this age ............below the picture of Cotton is a picture of his father Icee when he lost his puppy coat.............
Double click to upload a photo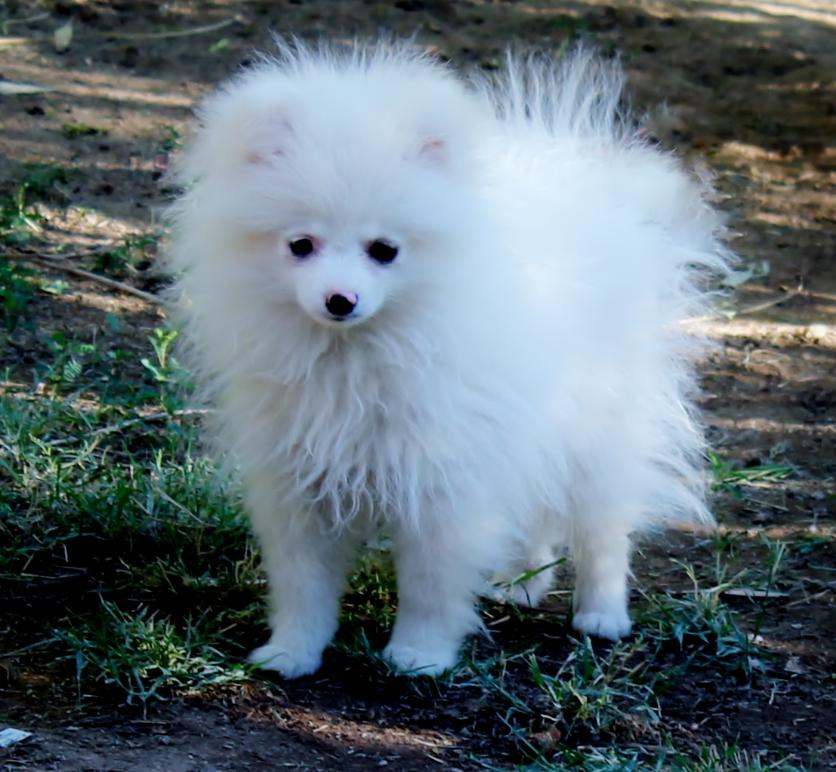 as you can see below when a Pomeranian puppy looses his Puppy Coat he looks a bit scragley but within a couple of months they are a ball of fur again
ABOVE IS COTTON WHEN HE STARTED LOOSING HIS PUPPY COAT BELOW IS ICEE COTTON'S FATHER WHEN HE HAD COMPLETELY LOST HIS PYPPY COAT ..........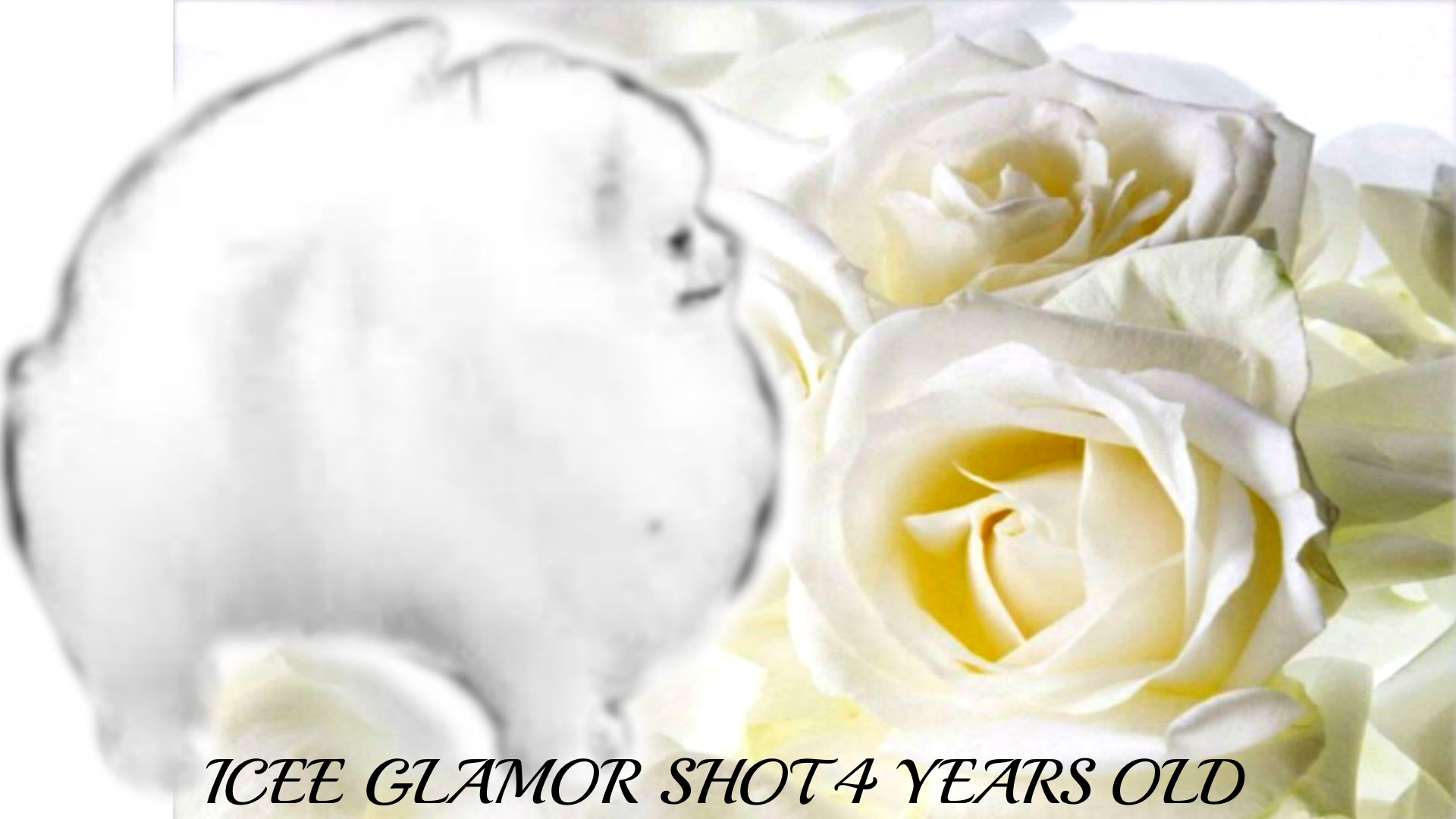 BELOW IS COTTON IN A PROFESSIONAL PHOTOGRAPH TAKEN OF HIM WHEN HE WAS 8 OR TEN WEEKS OLD I FORGET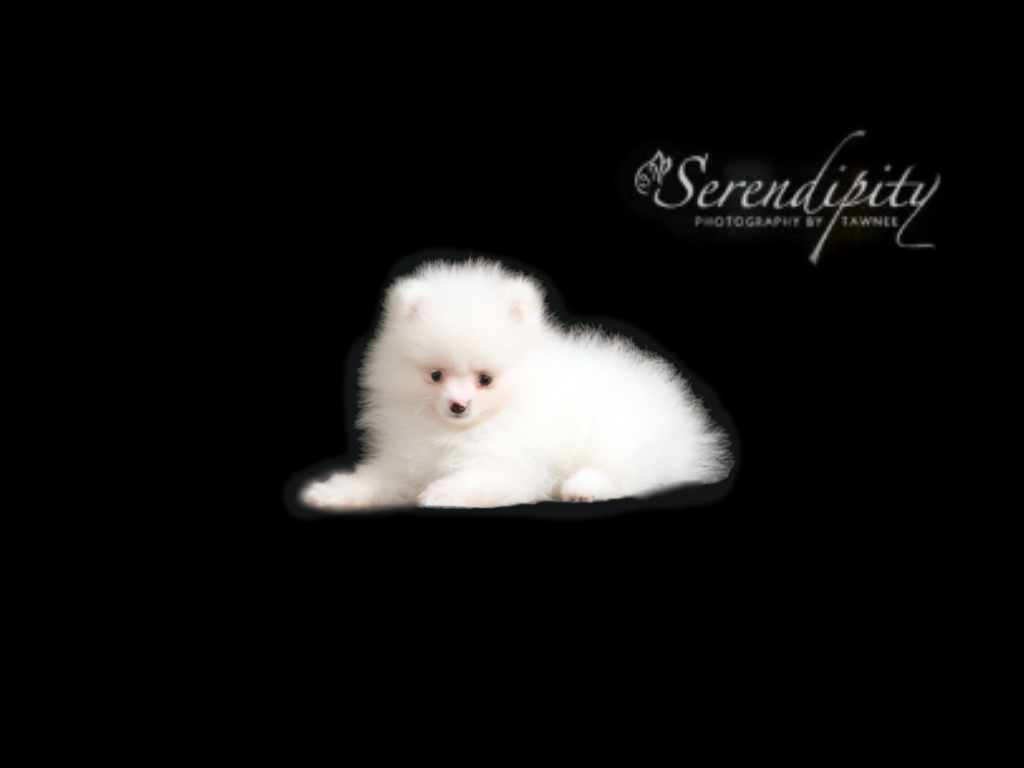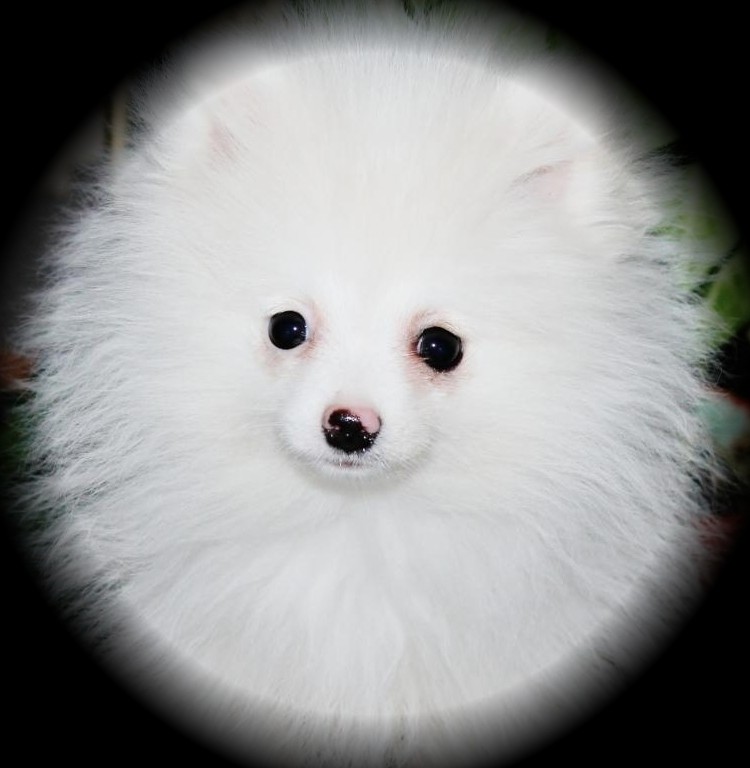 This is my Boy Toy ! ( A.K.A COTTON)
I was going to keep him to help Icee out in the baby making department but it turns out that he has an "expressed Party gene
' Perfect if you want a BRIGHT WHITE Pomeranian but not so perfect if you wan an ICE WHITE Pomeranoan LOL....He looks a little bit creamy white in some of the pictures but he is BRIGHT WHITE with a smuge of very light creme on his back AND ON THE BACK OF EACH OF HIS EARS . In fact THE THREE CREME SPOTS ARE so light I did not find THEM until he was 10 weeks old ! He is SUPER TINY ... He will stay small .....
below are some of his grandsires that I took his name from . From left to right is 1. Canton Welsh Lightning 2. Tookies Toy Boy 3.Beau James White Lightening 4. Tha Famous Blitzen 4. The Ice White Knight of Camelot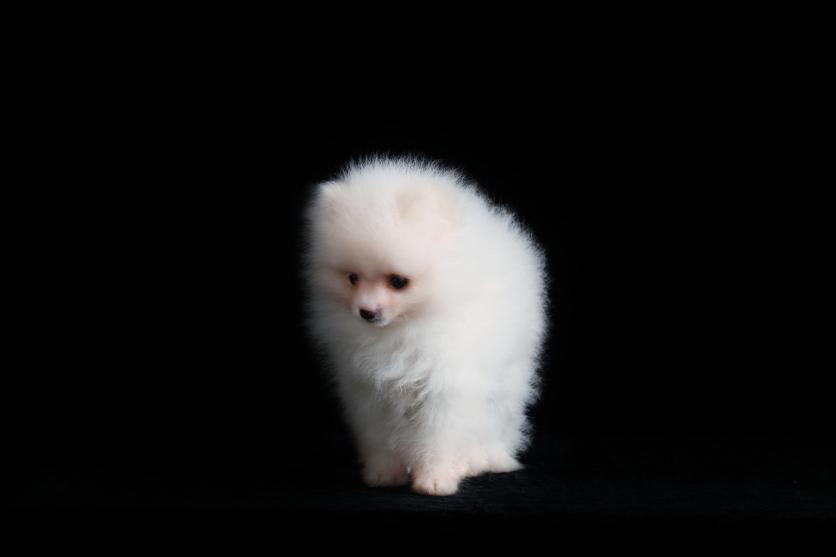 Beloware pictures of him from birth on till now.....
birth weight 2.8 ounces
1 week old 4.8 ounces
2 weeks old 7.1 ounces
3 weeks 9.2 ounces
4 weeks 9.8 ounces
This is the tiny male out of Nina and Icee He looks like he will be white carrying a Party gene He has Party toes and a party nose. He is bright white so far his lips and nose are now starting at 3 weeks old to fill in black
My Little Toy Boy is 5 weeks old in the picture below isnt he a doll?
the whole litter is on Royal Canin Mother/Baby dog 4 days before they turned 5 weeks old and in the last four days they have put on more weight that I could have ever imagined !
At 4 weeks old Blue Boy weighed 9.8 ounces and now seven short days later he now weighs a whopping 15 . 5 ounces !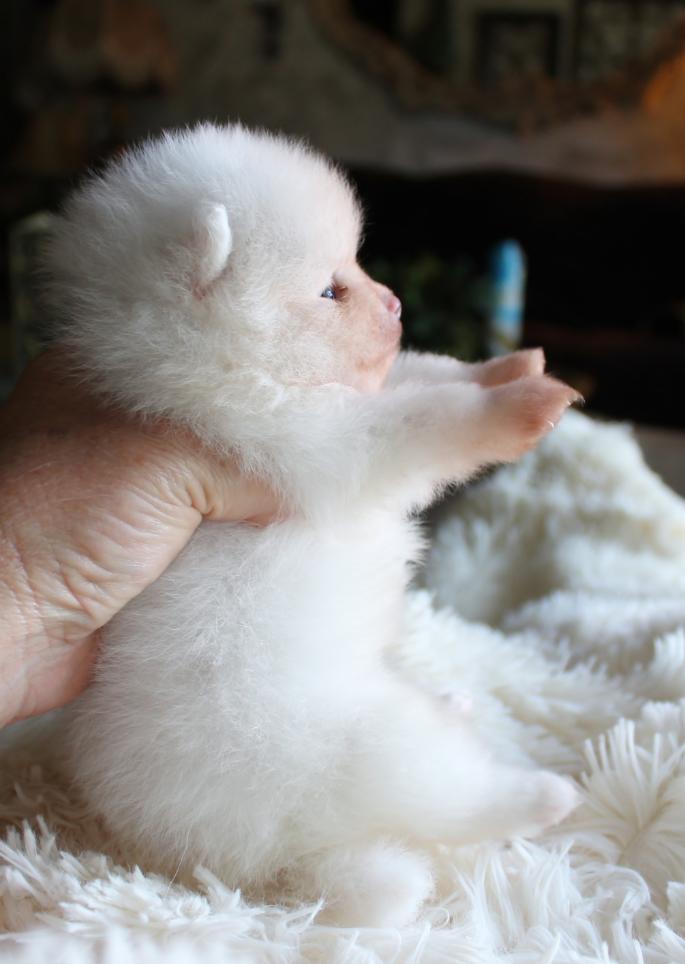 Below my Beau Toy at 5 weeks old
Below a picture of Beau at 4 weeks old His pigment took a long time to fill in completely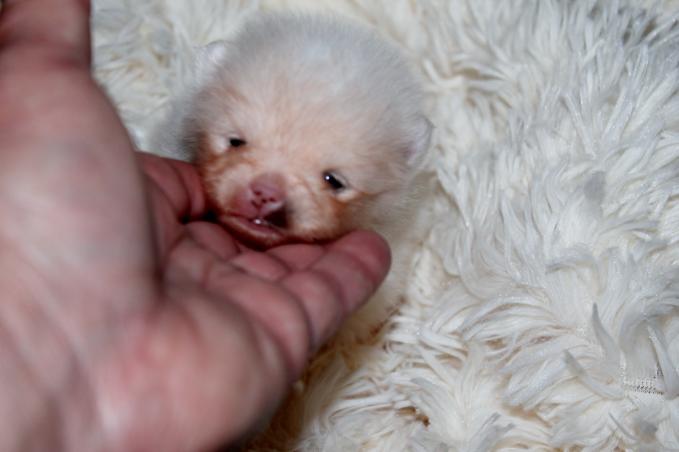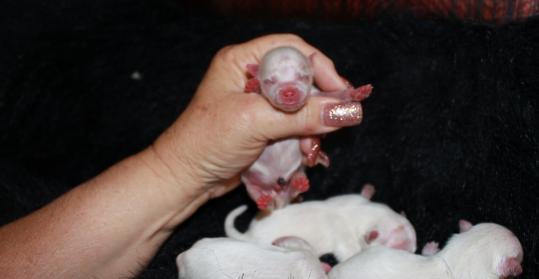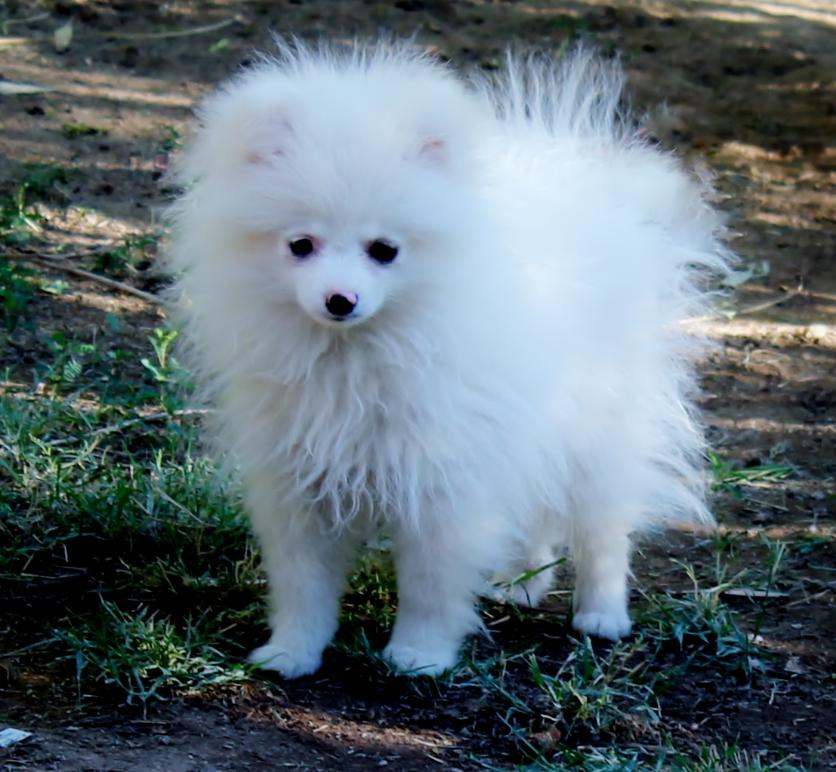 Above is a picture of Toy Boy at 15 weeks old ... he is just starting to loose his "PUPPY COAT " here...