WE GIVE A THREE YEAR ( REPLACEMENT) HEALTH GUARANTEE ON EVERY PET PUPPY WE SELL
We know the health of your puppy is a major concern for anyone considering purchasing a puppy. Especially over the internet ! That is why we ask that you come here to our home in Arizona to see the parents and the puppies . And to pick out your future Family member . You can rest assured we breed only the healthiest breeding Stock and they are all pets in our home . All of the Mothers and fathers of our puppies go thru a thorough 28 point health exam , before they are allowed to have any puppies.
We only breed the " Best of the Best White Pomeranians!
We are the only Pomeranian Breeder Registered with the American Kennel Club that gives a
3 THREE YEAR HEALTH GUARANTEE ON EACH AND EVERY ONE OF OUR PET PUPPIES !! (SORRY WE DO NOT GIVE GUARANTEES TO BREEDERS )
Every puppy is given a thorough 28 point health exam by our veterinarian and a fecal test will be done to make sure there are no parasites. We work closely with two veterinarians and a Veterinarian Hospital . We follow their protocol regarding vaccinations and de-worming and have our vet do routine, puppy Vaccinations, examinations, micro chipping and fecal examines on each litter to ensure their are no parasites.
Before we allow anyone near our puppies, we require them to wear protective foot coverings to ensure no outside viruses or germs are tracked in to the puppy's environment ( our home)
When our puppies are 7 weeks old , our veterinarian will examine your puppy and will fill out the form below.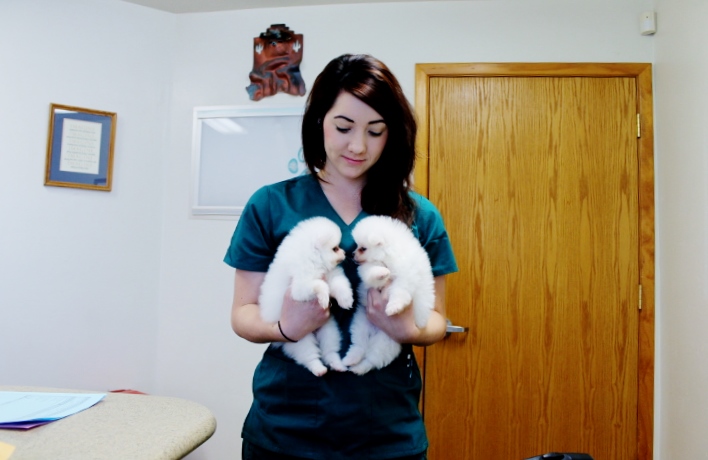 We will give the new puppy parents this veterinarian report along with all the health and shot records for their puppy.
Your new puppy will need follow-up vaccinations so it's important to show your veterinarian the health and shot records so they can continue the puppy's vaccine schedule.
All our puppies are fed a Premium dry kibble formulated to wean puppies onto. When they reach two pounds we switch them to a dry kibble formulated especially for indoor MINI PUPPIES . We ask that you keep them on the diet they have been raised on , to ensure proper digestive health.We will send this food home with your puppy. It can be purchased at any Pets Mart or online at Chewy.com


CONTRACT
YUMA POMERANIANS IS SELLING AN AKC REGISTERED PURBRED WHITE POMERANIAN TO:
CONTRACT
SHEILA SANTOS IS SELLING AN AKC REGISTERED PUREBRED FEMALE WHITE POMERANIAN TO:
Name of Buyer
____________________________________________________________________________
ADDRESS OF BUYER
__________________________________________________________________________
EMAIL OF BUYER ___________________________________
PHONE_____________________
FOR THE AMOUNT OF $
A NON-REFUNDABLE DEPOSIT OF $500 NEEDS TO BE PAID FOR US TO HOLD THIS PUPPY FOR YOU
THE BALANCE WILL NEED TO BE PAID WHEN YOUU PICK HER UP IN ARIZONA WHEN SHE REACHES TWO POUNDS
IF YOU CHOOSE TO USE A PUPPY NANNY
YOU ARE RESPONSIBLE TO PAY HIS FEES SEPARATELY FROM THIS CONTRACT
IF YOU WILL BE USING A PUPPY NANNY SERVICE TO BRING YOUR PUPPPY TO YOU . THE BALANCE DUE ON YOUR PUPPY WILLL NEED TO BE WIRED TO OUR BANK (BUSINESS ACCOUNT ) , BEFORE WE RELEASE THE PUPPY TO THE DELIVERY SERVICE
THIS DOGS NAME IS: DOB. AKC LITTER NUMBER. GENDER. WEIGHT AT 7 WEEKS OLD.
Sire:
AKC
Dam:
AKC.
THE POMERANIAN COVERED IN THIS CONTRACT IS BEING SOLD AS A PET . THIS POMERANIAN WILL COME WITH A THREE (3) YEAR REPLACEMENT HEALTH GUARANTEE THAT COVERS ANY GENETIC DEFECT THAT CAUSES DEATH WITHIN THREE YEARS OF BIRTH , AS ATTESTED TO BY A NECROPSY REPORT BY A STATE LICENSED VETERNARIAN PROCURED BY BUYER AND REVIEWED BY SELLERS ARIZONA STATE LICENSED VETERNARIAN CONTAINING MICROCHIP NUMBER THAT MATCHES MICROCHIP NUMBER ON THIS CONTRACT ______________________________
MICROCHIP NUMBER ________________________
THIS PUPPY WILL BE TAKEN TO A ARIZONA STATE LICENSED VETERNARIAN AT THE SELLERS EXPENSE TO HAVE A DETAILED HEALTH EVALUATION DONE WHEN IT IS 7 WEEKS OLD. ALL ITEMS LISTED BELOW WILL BE ASSESSED BY THE VETERNARIAN. RESULTS WILL BE IN A WRITTEN STATEMENT, SIGNED AND DATED BY THE VETERNARIAN:
• BITE WILL BE CHECKED FOR CORRECT BITE, OVER BITE, UNDER BITE, MALOCCLUSION
• SKIN WILL BE CHECKED FOR FLAKES, DRY SKIN, LESIONS , GENERAL CONDITION
• COAT WILL BE EVALUATED, COLOR OF COAT WILL BE RECORDED
• DOG WILL BE CHECKED FOR PARASITES, CONFIRMED PARASITE FREE BY FECAL EXAME
• HEALTH OF EYES WILL BE EVALUATED FOR DISCHARGE, CHERRY EYE, GOOD SIGHT ETC.
• HEALTH OF EARS WILL BE EVALUATED FOR NORMAL HEARING, CLEAN EARS, MITE FREE
• SKULL WILL BE EXAMINED TO CHECK FOR OPEN FONT
• HIPS WILL BE CHECKED
HEART WILL BE CHECKED
LUNGS WILL BE CHECKED
• PATELLAS WILL BE EVALUATED AND GRADED
• VET WILL CONFIRM NO HERNIAS
• VET WILL CONFIRM CORRECT REPRODUCTIVE EXTREMITIES VULVA / TESTICLES
BUYER AGREES TO HAVE THE PUPPY VACCINATED AGAINST
.....Canine 1-DAPPv (Galaxy DA2PPv) prevents Canine Distemper, Adenovirus Type 1 (Hepatitis), Adenovirus Type 2 (Respiratory Disease), Parainfluenza, and Parvovirus...... EVERY THREE WEEKS BY A LICENSED VETERINARIAN UNTIL THE PUPPY RECEIVES LAST VACCINATION AT 18 WEEKS OLD
IF PROOF THAT THIS PUPPY WAS VACCINATED FOR THE ABOVE ITEMS ABOVE IS NOT PROVIDED THIS REPLACEMENT GUARANTEE WILL BE VOIDED
PLEASE NOTE TO KEEP BITE CORRECT , PUPPY TEETH THAT DO NOT FALL OUT ON THEIR OWN BY 6 MONTHS OF AGE WILL NEED TO BE PULLED BY A STATE LICENSED VET
TO KEEP PUPPY FROM BECOMING OVERWEIGHT. BUYER AGREES TO FEED ONLY ROYAL CANIN INDOOR MINI PUPPY DRY UNTIL ONE YEAR OF AGE / NO CANNED FOOD OR HUMAN FOOD
I do ask that if you buy one of my puppies and circumstances change in your life that make keeping her impossible , you give me first right of repurchase before you offer him/her to anyone else
DATE ____________________________________
BUYER AGREES TO HAVE THE PUPPY VACCINATED AGAINST
.....Canine 1-DAPPv (Galaxy DA2PPv) prevents Canine Distemper, Adenovirus Type 1 (Hepatitis), Adenovirus Type 2 (Respiratory Disease), Parainfluenza, and Parvovirus......
I do ask that if you buy one of my puppies and circumstances change in your life that make keeping her impossible , you give me first right of repurchase before you offer her to anyone else
DATE ____________________________________
IN WITNESS WHEREOF, the parties hereto have caused this CONTRACT to be effective as of the day, month and year first written above
SELLER SIGNITURE ________________________________________________________________________________
BUYER SIGNITURE ________________________________________________________________________________
PRINTED NAME OF BUYER___ _____________________________________________________________________
PLEASE PRINT THIS OUT ....FILL IN THE BLANKS AND E MAIL IT BACK TO ARIZONAPOMERANIANS@GMAIL.COM
BELOW IS A LINK TO DETAILED INFORMATION ABOUT RETAINED BABY TEETH
http://www.thedogplace.org/HEALTH/toy-breed-teeth-and-tooth-care-0607-finch.asp
click here to go back to HOME PAGE