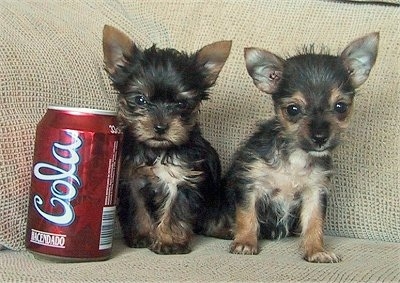 Purebred Yorkshire Terrier and a Chorkie (Yorkshire Terrier / Chihuahua mix) born in the same litter
YES, it is the female, that will determine the size of a litter.

YES, the stud dog, determines the gender of the puppies.
"This litter is a result of a mistake when a Chihuahua male caught a Yorkie female at the beginning of her heat. The Yorkie male mated her as well. In the same litter we have aChorkie female and a pure Yorkie male! Cute! In the photo they are 8 weeks old."Courtesy of Wilkinsons Dream Kennel - Spain
AKC Puppy Registration : How AKC Breeders
Ensure a Good Start!




AKC breeders are the best and produce the best puppies, whether they are destined for show careers or loving homes. Help ensure they get their best start with the valuable package of benefits that is only available to AKC registered puppies. Worth $125, it includes a free copy of the Official New Puppy Handbook, a free introductory veterinary office visit, complimentary 60-day Trial Pet Healthcare coverage, and much more! Simply click the link above and enter the puppy owner information for your recent litter via our Online Litter Records tool. AKC will contact your puppy owners and communicate the valuable benefits of AKC registration that's waiting for them and their puppy! (Don't worry - the contact information of puppy buyers you list in your litter record will not be sold or used for any other promotions or marketing.)


| | |
| --- | --- |
| AKC Litter Number: TS022375 | Date of Birth: 02/15/11 |
| Dam's AKC Number: TR90419308 | Sire's AKC Number: TR90720702 |
| Male Puppies: 2 | Female Puppies: 3 |
This email was sent to you as a valued customer of the American