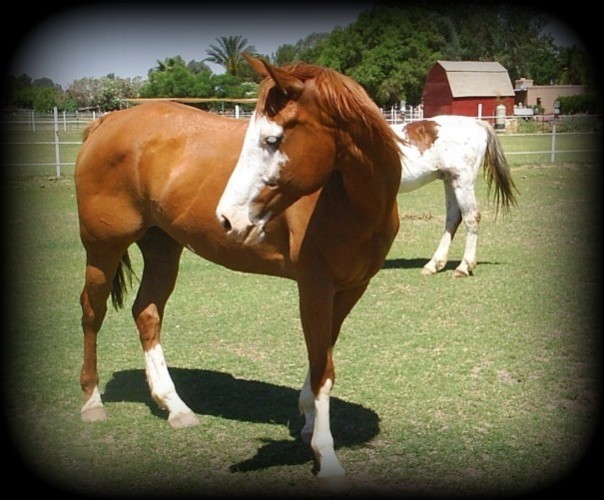 before I bred Pomeranians hi bred horses below is a little bit of information about some of our horses
Above is our pretty boy blue he was born in 1994, Blue is a Sorrel (ee) He does not carry a Creme Gene . According to A.P.H.A he is a Splashed White Overo He is a Giant 16.3 hands ! I purchased him as a Two year old strictly for riding . He has beautiful blue eyes , thus the name Blue He is the only horse I will ride now , I trust him with my life. He is so gentle ......... very small children have learned to ride on his back. He is the horse we throw ANYBODY on to when we have company .
He was not part of my breeding program.
Update, February 2023 we still have blue. He's an old man but still with us.
Then there was Kiska
I bought her back in 1991 for $125.00 She was 7 months old Kiska was not part of my " Breeding program " . She was strictly a riding horse for us and for our company . For 17 years she was a "Maiden Mare " then there came Buckey while I had him in the pasture to breed with Buttercup for her last foal , He somehow impregnated poor Kiska. I was just getting out of my "Horse Hobby" when this happened so I placed Kiska ( yes I gave her away FREE ) and her brand new little girl with someone who I knew would provide a great forever home for them both , as I made sure to give Kiska to his 12 year old daughter while the baby went to his younger son I knew the kids would never let Dad get rid of their horses Kiska and her baby girl are still with them in a two acre shaded grass pasture just a few miles from here . Genetically Speaking, Kiska is (A, Ee) a Bay Horse She does not carry a Creme Gene
and below is Wrangler
I took this picture of him the first time a saddle was put on his bach . He reared up and it was "A Kodack moment "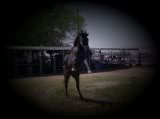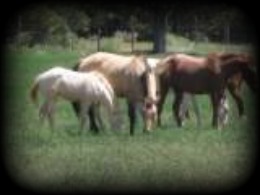 Above is my best mare Buttercup with her las colt at her side
( he is the creme colored one on the far left )
She is a Buckskin Dun . Genetically Speaking, Buttercup is quite unusual She carries not only (A, E, and D gene she also carries the CCcr gene ) Jack Pot ! Above the picture is when I first bought her . She is a Buttermilk Buckskin with a Dorsal stripe (Dunn She has one Creme Gene ) She was perfect for my Breeding program as I was breeding for Horses like Cremellos, Perlinos, and Smoky Creams,
They have two cream genes. ( Homozygous )
They are "double dilutes."
After Buttercup I purchased a STUNNING Palomino mare Frosty , shown below running with Buttercup. Genetically Speaking, Frosty is a Palomino (ee, CCcr )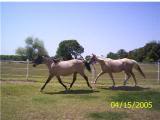 Above is Buttercup and Frosty days before their 2005 foals They do not even look pregnant in this picture
HERE IS FROSTY A FEW DAYS LATER WITH THAT BABY THAT WAS IN HER BELLY a Palomino (ee, CCcr )
In THE ABOVE PICTURE
Frosty is a Palomino with one Creme Gene . I purchased her from a Rancher in Texas . The baby above turned out to have just one Creme Gene a Palomino (ee, CCcr ) She was a pretty Palomino ! Frosty later gave birth to a Palomino colt shown below: He is also a Palomino (ee, CCcr )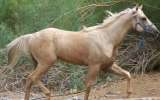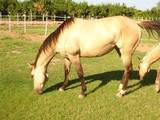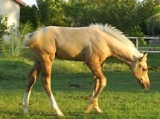 above is Buttercup with the first filly I got out of her a Palomino with only one Creme Gene a Palomino (ee, CCcr )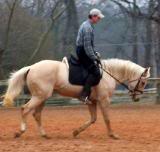 Here is that same Palomino Filly in her new home under saddle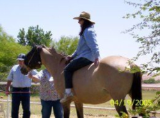 Above is a picture of Buttercup the DAY BEFORE she foaled !
( That's Vonnel Noble on her back !)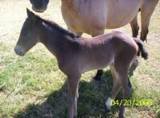 above is the second filly I got out of her a dark Buckskin (A, E, CCcr ) , again only one creme gene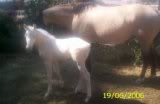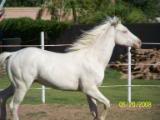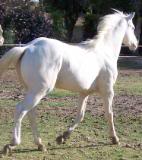 Then came my First foal with Two cream dilution genes (homozygous cream) He is a a "double dilute" a Cremello (CcrCcr ) JACK POT !!
He is the Triple registered Cremello Stallion Standing in Scottsdale Arizona
Triple Registered as "The Creme Stallion "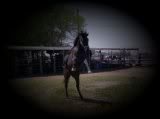 Above is Wrangler the Sire of The Creme Stallion He carries a "Hidden" Creme Gene
A single Ccr on BLACK = Smoky Black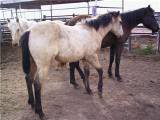 Above is a picture of , Buckey ( ONE Creme Gene )
and Wrangler ( one Creme Gene ) as weanling's
straight off the trailer when they were brought to me from
The Battel Ax Ranch in Texas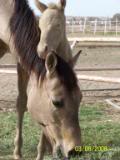 Above is Buttercup with a colt I got out of her, a stunning Smokey Creme
He is Homozygous for the Creme Gene !! His sire is Buckey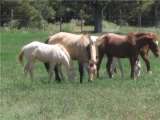 Buttercup is retired now . Here she is at Pasture with her last colt
Two cream dilution genes (homozygous cream) has a "double dilute" effect on both red AND black hair on the horse's body and points. These horses are nearly white in color, though they may retain a golden cast, often with dapples. A bay or brown horse with two cream genes becomes a perlino; a chestnut horse a cremello; and a black a smoky cream. Homozygous cream dilutes all have pink skin and blue or bluish green eyes. Their skin may freckle in the sun. Every offspring of a homozygous cream dilute will be cream dilutes of some type.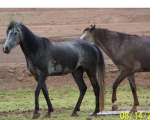 Above is Safirea WHO TURNED OUT TO BE A GREY Not a Blue Roan as advertised , and Roanny in the back pasture ( I got rid of both of these horses right away as the were misrepresented as "Roans" )


Adove is Safirea after a little work under saddle I traded her for a Palomino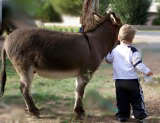 Above is my Grandson Blaine and Pedro his Miniature Donkey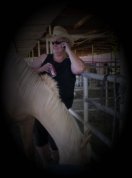 Me and Poco

....................Well there were other horses like The Thoroughbred Stud colt my father gave me , Cat, Coosa, Pretty Boy, Bear, Julie a pretty Paint , Zip, Jewell and her mother , , and others . But the ones that stood out in my life I listed above .
F.Y.I The Horse Hobby is a very expensive Hobby that I would not recommend entering into ..........unless you have "Money to burn " caus that is what is going to end up happening right in the belly OF YOUR
Handsome Hay Burners LOL !
And then there were the Pomeranians ……