This is Lady" Registered as " Camelot's Black Lady of the Lake"
She has over 70 CHAMPIONS behind her in her 5 generation Pedigree ( see below)
She has had her last litter fr me since I am going to be breeding Exclusively White Pomeranians now

LADY IS NOW OWNED AND LOVED BY MY BREEDING PARTNER LORIE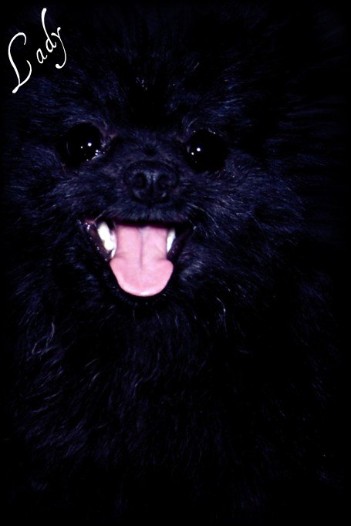 CHECK OUT HER PEDIGREE
( CHAMPIONS ARE ALL IN RED )


JEREMY OF LENETTE
ORANGE SABLE
CLAIRMONT'S DYLAN
CH. APPLE'S TRAVELING RAMBLER ROM
RED
AM. CH. APPLE'S TRAVELING DIAMOND ROM
RED
CH. MODEL'S TRULY-A-DIAMOND
APPLE'S TRAVELING CRICKET
CH. JAN-SHAR'S CHARMING BECKY
ORANGE
CH. BEV-NOR'S SOUTHLAND RAMBO
BEV-NOR'S FANCY FREE
CLAIRMONT'S CAROLINA LOLITA
CH. GREAT ELMS FIRESTARTER ROMX
ORANGE
CH. CEDARWOOD'S IMAGE OF DIAMOND ROMX
GREAT ELMS SWEET CANDY ROM
CLAIRMONT'S CHERISHED DIAMOND
CH. APPLE'S TRAVELING DIAMOND ROM
CH. Dainti Delite of D-Nee's
SWEET MINERVA OF LENETTE
CH. GREAT ELMS LITTLE TIGER
GREAT ELMS MASTER MARK ROM
ORANGE
CH. Cedarwood's Image of Diamond ROMX
Great Elms Sweet Candy ROM
CHIP-A-WAY'S TERRIFIC LISA
ORANGE
CH. Emcee's Terrific Wee Chips
Chip-A-Ways Terrific Windy
YOLANDA'S TWINKLE OF LENETTE II
ORANGE
CH. GREAT ELMS TOP BRASS O YOLNDA
RED
Great Elms Moody Red Rhudy
CH. Yolanda's Traveling Tequila
Yolanda's Twinkle of Image
ORANGE
CH. Cedarwood's Image of Diamond ROMX
CH. Yolanda's Traveling Tequila
MUSTANGS EPPS HOT TA TROT
ORANGE
JEREMY OF LENETTE
ORANGE SABLE
CLAIRMONT'S DYLAN
CH. APPLE'S TRAVELING RAMBLER ROM
RED
AM. CH. APPLE'S TRAVELING DIAMOND ROM
CH. JAN-SHAR'S CHARMING BECKY
CLAIRMONT'S CAROLINA LOLITA
CH. GREAT ELMS FIRESTARTER ROMX
CLAIRMONT'S CHERISHED DIAMOND
SWEET MINERVA OF LENETTE
CH. GREAT ELMS LITTLE TIGER
GREAT ELMS MASTER MARK ROM
CHIP-A-WAY'S TERRIFIC LISA
YOLANDA'S TWINKLE OF LENETTE II
ORANGE
CH. GREAT ELMS TOP BRASS O YOLNDA
Yolanda's Twinkle of Image
MUSTANG' WEE PRINT TRADITION
ORANGE
BIS AM/CAN. CH. ROCK N TRADITION OF OAKRIDGE ROMS
ORANGE
CH. MILLAMOR'S MARK TRADITION ROMX
ORANGE
CH. MILLAMOR'S TRADEMARK
CH. Millamor's Sparkling Music
Rock Dancer's Little Rock ROM
ORANGE
CH. De Arta's Rock Dancer
De Arta's Dancing Moongold
NANA'S MISS SCARLETT
YELLOW ROSE'S HHH RED RIDER
CH. HHH High Speed Bandit
Krystle Koala Bear
Wee Heart's Little Sheba
ORANGE SABLE
MAC'S HIGH STEPPER
Wee Heart's Sugar Plum


NAN'S TOUCHE' TO YOGI
ORANGE
AM. CH. CHRISDEN'S OZARK TRADITION
ORANGE
BIS AM/CAN. CH. ROCK N TRADITION OF OAKRIDGE ROMS
ORANGE
CH. MILLAMOR'S MARK TRADITION ROMX
ORANGE
CH. MILLAMOR'S TRADEMARK
CH. Millamor's Sparkling Music
Rock Dancer's Little Rock ROM
ORANGE
CH. De Arta's Rock Dancer
De Arta's Dancing Moongold
CH. VALCOPY-WAKHAN SCARLET LETTER
ORANGE SABLE
BIS AM. CH. VALCOPY WAKHAN VALENTINO ROMX
BLACK
Bis Biss Am/can Ch Finch's He Walks On Water
Ch Valcopy Wakhan Lilly Dache
CH. VALCOPY-WAKHAN SCARLET FEVER
Ch Merrymont's Saturday Nite Fever
Ch Valcopy Wakhan High Style
CH. HHH Society Paige
ORANGE
CH. Mac's Something Special
RED SABLE
CH. Merrymont Fly By Nite
CH. Merrymont Sat'rday Nite Fever
Merrymont Cameo Keepsake
CH. Mac's Morning Star
CH. Mac's Tag Along
Mac's Show N' Tell
CH. HHH Coming Up Roses
AM. CH. TIM SUE'S JUST A LIL MOONLIGHT
ORANGE
Am Can CH Chriscendo City Lights
Tim Sue's Just A Rose
CH. HHH HONEYSUCKLE ROSE
Ch HHH High Speed Bandit
Hendricks' Ima Honey

HYLAN ACRES DREAM CATCHIN'

SABLE

DONARA'S TICKLE ME ELMO
ORANGE
GLEN IRIS ONE FOR ALL
RED SABLE
CH. JAMELS FUGICLE OF SOUTHLAND ROM
RED
CH. SOUTHLAND'S TOASTED FUDGE
CH. Jamel's Smudge Orange Parfait
AM CH. JANESA'S GLEN IRIS SORCERESS
RED SABLE
Ch Bev-Nor's Toastmaster
Bev-Nor's Janesa Toast
DONARA'S FLASH BURN
RED SABLE
Ch Allayn's Feel the Heat
RED SABLE
Ch Allayn's Sinnerman Toast
Great Elms Becky of Lenette
Donara's Ruby Rainbeaux
RED SABLE
Mac's Tomanoll Tomboll
Mind O My Own From Lennis
HYLAN ACRES DREAM WEAVER
WEE HEART'S STEVE MCQUEEN
ORANGE
CHRISCENDO CURRENT AFFAIR
ORANGE
Bis Biss Am/can Ch Chriscendo Calvin Klein
Chriscendo Courtney Rose
DIXIE FOX GOLD DUST SONNIE
ORANGE
AM. CH. MIXONS ROUDY RAZMATAZZ
DIXIE FOX SWEETIE O'VANHAAS
WYLIE PATTIKAKES TO WEE HEART
RED SABLE
WEE HEART'S TO THE MAXIMUM
BLK N TAN
CH. WEE HEART'S THE STUFF OF DREAMS
WEE HEART'S LASTING IMPRESHUN
WEE HEART'S ROSE ANNE
RED SABLE
CH. TEXSUNS LONE STAR
WEE HEART'S FUNNY VALENTINE
Pedigree generated by PedigreeQuery.com


K-BO'S STILL WALKING -
ORANGE
FINCH'S SHAMROCK LIL BOY KING - ORANGE
CH. TIM SUE'S MOON ROCKET -
ORANGE
CH. JOLLY WEE MACHO OF MOON ROCK - ORANGE
CH. MILLAMOR'S MOON ROCK
RANDY'S BRANDY OF JOLLY WEE
TIM SUE'S JUST A LIL LOVIN - ORANGE
CH. TIM SUE'S MARK OF THE DRAGON
DAVONSHIRE TIMSUE BIT OF LOVE
FINCH'S DEDRA OF KRIC-MAGIC - CREAM
CHESAI TOUCH OF MAGIC - CREAM
CH. MERCER'S MAGIC TOUCH O DUKE
CH. CHESAI CHERRY CHEESECAKE
KRIEGER'S MISS KRICKET - BLACK
KRIEGER'S JOLLY CHOLLY
KRIEGER'S RITZIE MITZIE
TLC ELBONY SERENDIPITY - BLACK
BEAU JAMES POSEIDON'S ADVENTURE - CREAM SABLE
UNDERWOOD'S ANDY PANDY - BLK TAN
HEARTLAND'S TREASURED SON
HEARTLANDS KON TIKI COCO CHANEL
BEAU JAMES DREAMTIME SEASHELL - ORANGE
DREAMTIME TSALAGI POW POW
CREIDERS DUSTY PETTICOATS
FINCH'S HALEY'S COMET - BLACK
CH. FINCH'S HE WALKS ON WATER - BLACK
FINCH'S BORN SWEET SCOTTIE
FINCH'S AMBROSA MYSTERY
POM ACRES - FINCH'S ANASTASHA - BLACK
CH. POM ACRES BILLY JO
POM ACRES DALLAS KAN TOO
DOJO'S FAIRY TALES - ORANGE SABLE
CH. LOVELY TLC DIABLO ROSSO - RED
CH. TLC OREGONIZED MISCHIEF - ORANGE SABLE
RAINTREE'S BEAM ME UP SCOTTY - BLACK TAN
CH. NOLA'S JOSHUA FUDGE
RAINTREE'S TAN-A-FANCY
TLC DOMINQUE - RED SABLE
CH. TLC I'S A PRINCE TOO
TLC WEE HOLLY
CH. LOVELY JILLIAN SAIS SO - BLK TAN
CH. LOVELY JESSIE SAIS SO - RED SABLE
CH. BI-MAR SON 'N' DANCE MAN
CH. LOVELY LADY SHAWNA-DEBUTANTE
SHIR-LEE'S LITTLE MISCELLANY - ORANGE SABLE
TOBE LIL BOBBY OF G E
SHIR-LEE'S MS THEADORA RUXPIN
MARCY'S OUI TINKERBELLE - ORANGE SABLE
MAX MILLION IV - CREAM SABLE
JAMAR LITTLE BEAR - ORANGE SABLE
PAILLARD'S RED FOX
SHERRIE JAMAR TLC
SMMIDGEN LITTLE BREECHES - ORANGE SABLE
SHORT STACK'S STUDLEY JAMES
CREAM AND SUGAR
MARCY'S PEACHY CREAM MUFFIN - CREAM
SIR GIZMO MITCHELL - CREAM
LOIS'S SPARKLIN TWINKLE TOES
LOIS'S PEEK-A-BOO PEACHES
LADY BLACK DIAMOND - BLACK
PEPPER TOE JOHNSON
MITZIE ANN YOUNG


CAPPS' FLIP THAT SWITCH
ISKATO'S RAZZLE DAZZLE OF LENETTE - ORANGE
RAZZ-MA-TAZZ OF LENETTE - ORANGE
CH. MAC'S FOUR ON THE FLOOR - ORANGE
CH. MERRYMONT FLY BY NIGHT
CH. MAC'S MORNING STAR
MAC'S RAMBLING GYPSY - ORANGE
CH. APPLE'S TRAVELING RAMBLER
MUNCHKIN'S ONE-FIFTY-ONE
LABAYS SAVANNAH OF LENETTE - ORANGE
CH. DOMINIC OF LENETTE - ORANGE SABLE
CH. MILLAMOR'S DANCE OF SOURWOOD
MAC'S RAMBLING GYPSY
GREAT ELMS STACY -ORANGE
CH. GREAT ELMS LITTLE CRICKET
GREAT ELMS SYBL
CH. RASH RISE-UP IN MYSTIC PRIDE - ORANGE
CH. MYSTIC REBEL OF PUF-PRIDE - ORANGE
CH. ALLAYN'S ROCK N REBELLION - ORANGE SABLE
CH. ROCK N TRADITION OF OAKRIDGE
ALLAYN'S LIL POLLY FLINDERS
CH. PUF PRIDE MYSTICAL MADISON - ORANGE SABLE
CH. PUF PRIDE CLOUDBREAKER
PUF-PRIDE K BT-OGOLD SAMANTHA
PARADISE'S ROSIE OF PRIMETIME - RED
CH. MAC'S REACH FOR THE GOLD - ORANGE
CH. MAC'S LUCKY LEGEND
MAC'S BOLD AND GOLD
MAC'S TWIST N' SHOUT - ORANGE
CH. MAC'S SOMETHING SPECIAL
PRIMETIME REACH FOR GLORY
D'S PRECIOUS MOMENTS
CH. TOY CHESTS STACKED DECK - ORANGE
CH. MAJESTIC BODY BY GODFREY PKAV - ORANGE SABLE
CH. MAJESTIC SIR GODFREY - RED SABLE
CH. SOUTHLAND'S SIR IMPRESSIVE
CH. D JUDGE'S MORNING MAJIC
APOLLOETTE EMPRESS GINA PKAV - BLACK N TAN
TOMPARK APOLLOETTE BLK GOLD
APOLLOETTE MAGIC MARKER
CH. GOIN CRACKERS OVER KATE - ORANGE
TEDDY-PTK - ORANGE SABLE
TEDDY HANSEN II
POM TALK'S KERRI ME ONE
AMI'S RITZY GIRL - ORANGE SABLE
L-S TEDDY RUXPIN
AMI'S LIL PIXIE
TOY CHESTS BABE IN THE WOODS - ORANGE
RIP-IT ROCK-IT - ORANGE
SHONDELL'S SIR ROCK-A-LOT - ORANGE
CH. ROCKIN TRADITION OF OAKRIDGE
SHONDELL'S MS KRISTY BELLE
SHONDELL'S MS TINE SHENAE - BLACK
SHONDELL'S JUNIOR EDITION
SHONDEL'S MS DARBY DARNELL
THERE GOES SISSY - BLACK TAN
GATES JOKER'S WILD - ORANGE SABLE
TEDDY-PTK
RACHEL-HI-BALL
KOKOPELLI'S CRICKET - SABLE
GATES MASON ALAN
CHERYL'S FANCY PRANCER
Pedigree generated by PedigreeQuery.com

BELOW IS A PICTURE OF LADY ,SHE IS A BLACK POMERANIAN.EVERYTHING ABOUT HER IS PERFECT.
EXCEPT THAT SHE IS NOT ICE WHITE , THAT WOULD MAKE HER TRULY PERFECT
SHE HAS TIGHT PATELLAS, A GREAT BITE. SHORT LEGS A COAT TO DIE FOR AND A PERSONALITY THAT IS BEYOND WONDERFUL
Her pedigree is HEAVY WITH GREAT ELMS CHAMPIONS ( both sides )
SHE HAS HAD FOUR LITTERS FOR ME ( SEE BELOW )
SHE WAS THE ONE AND ONLY BLACK POMERANIAN IN MY BREEDING PROGRAM SHE IS STUNNING !!.
I AM GIVING HER AS A GIFT TO A VERY SPECIAL FRIEND OF MINE WHO HAS ADMIRED ( AND WANTED ) HER SINCE I PICKED HER UP AT THE AIRPORT IN 2009 WHEN SHE WAS JUST A TINY PUPPY .
SHE WILL BE LIVING WITH LORIE STARTING IN 2013 AS A PET
.......BUT IF LORIE DOES DECIDE TO BREED HER , IT WILL BE TO ICEE SO THERE MAY STILL BE PUPPIES AVAILABLE FROM HER IN THE FUTURE........ IT WILL BE UP TO LORIE....... AS LADY WILL BE A PET NOW , NOT A BREEDER
.. LADY DESERVES THIS .......SHE IS A WONDERFUL GIRL ..... ALL HER PUPPIES HAVE STUNNING BLACK POINTS AND TEND TO GET LIGHTER AS THEY GET OLDER
SEE BELOW .... LADY JUST HOURS BEFORE GIVING BIRTH TO HER SECOND LITTER ..........
...........HOW CAN SHE ALWAYS BE SO HAPPY ?
I GUESS THAT IS ONE OF THE REASONS THAT I LOVE HER SO MUCH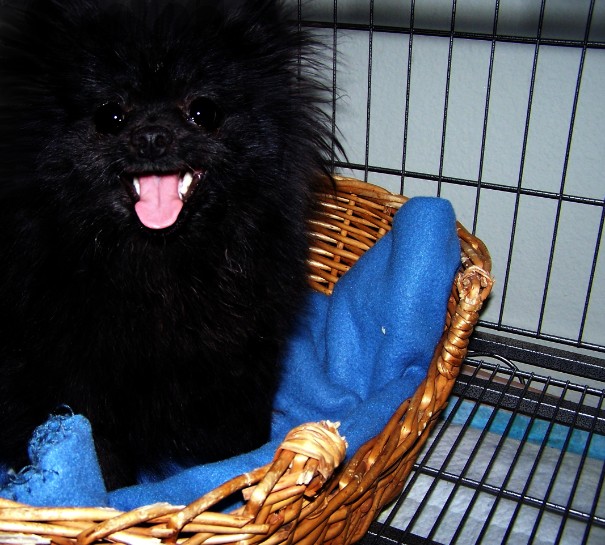 (ABOVE ) I decided to put my Lady in a Whelping kennel this time for her second litter .
I PUT THE WHELPING KENNEL AT TABLE TOP LEVEL SO I COULD SIT IN A CHAIR AND
more easily access the puppies as they were being born .
I did not do it with her first litter
BUT DID IT WITH THIS SECOND LITTER .... AND IT MADE THE WHOLE BIRTHING PROCESS A BREEZE !
I HIGHLY RECOMMEND
THIS METHOD TO ANY ONE WHO HAS TO STAY UP ALL NIGHT TO SIT BY THEIR BELOVED PETS SIDE
AS SHE WAITS TO GIVE BIRTH
SEE BELOW .... ALL HER PAST PUPPIES

BELOW IS A PICTURE OF THE TWO GIRLS FROM
LADIES FIRST LITTER :
ONE IS A SOFT WHITE THE OTHER IS A CREAMY WHITE BOTH HAVE NICE BLACK POINTS AND WERE EVEN LIGHTER WHEN THEY GOT THEIR ADULT COATS IN !
do not get this confused with ice white this is not ice white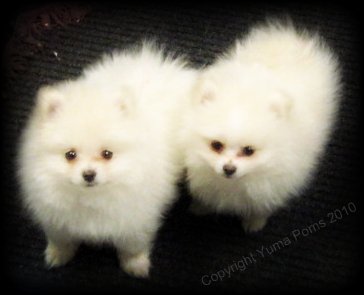 And Lady also had this boy in her first litter , notice the dark creme behind his ears ? He ended up being a cremeTHE TWO GIRLS STAYED WHITE !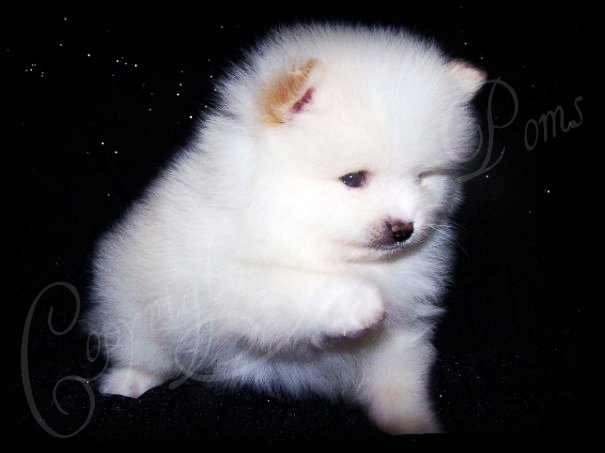 HER SECOND LITTER
OF PUPPIES WAS BORN JUNE 19TH 2011
THERE WERE THREE
.BELOW ARE PICTURES OF THE TWO GIRLS DAINTY AND PORSHA TAKEN RIGHT BEFORE THEY WENT TO THEIR NEW HOMES
ABOVE IS DAINTY SHE IS A CREAMY WHITE OR MIGHT BE A LIGHT CREME
BELOW IS THE SECONG GIRL IN HER SECOND LITTER .... SHE IS SOFT WHITE
do not get this confused with ice white this is not ice white
BELOW IS HER MALE PUPPY OLLIE AT 9 WEEKS OLD I ALMOST CALLED HIM A CREME AT 8 WEEKS OLD
BUT IT TURNS OUT HE IS A CREAMY WHITE
TO SEE LOTS MORE PICTURES OF OLLIE GO TO
http://www.facebook.com/#!/pages/Ollie/252432181488860
OLLIE HAS HIS OWN FACE BOOK PAGE !
HERE IS WHAT HE LOOKS LIKE ALL GROWN UP ...
BELOW IS LADIES THIRD LITTER 1/23/2012
Born Jan 23, 2012
Ladies Man (267150
)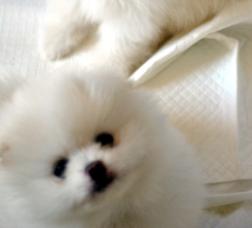 SOFT WHITE Pomeranian

WINTER
SMALL CEAMY WHITE FEMALE
Cash Man CREAMY WHITE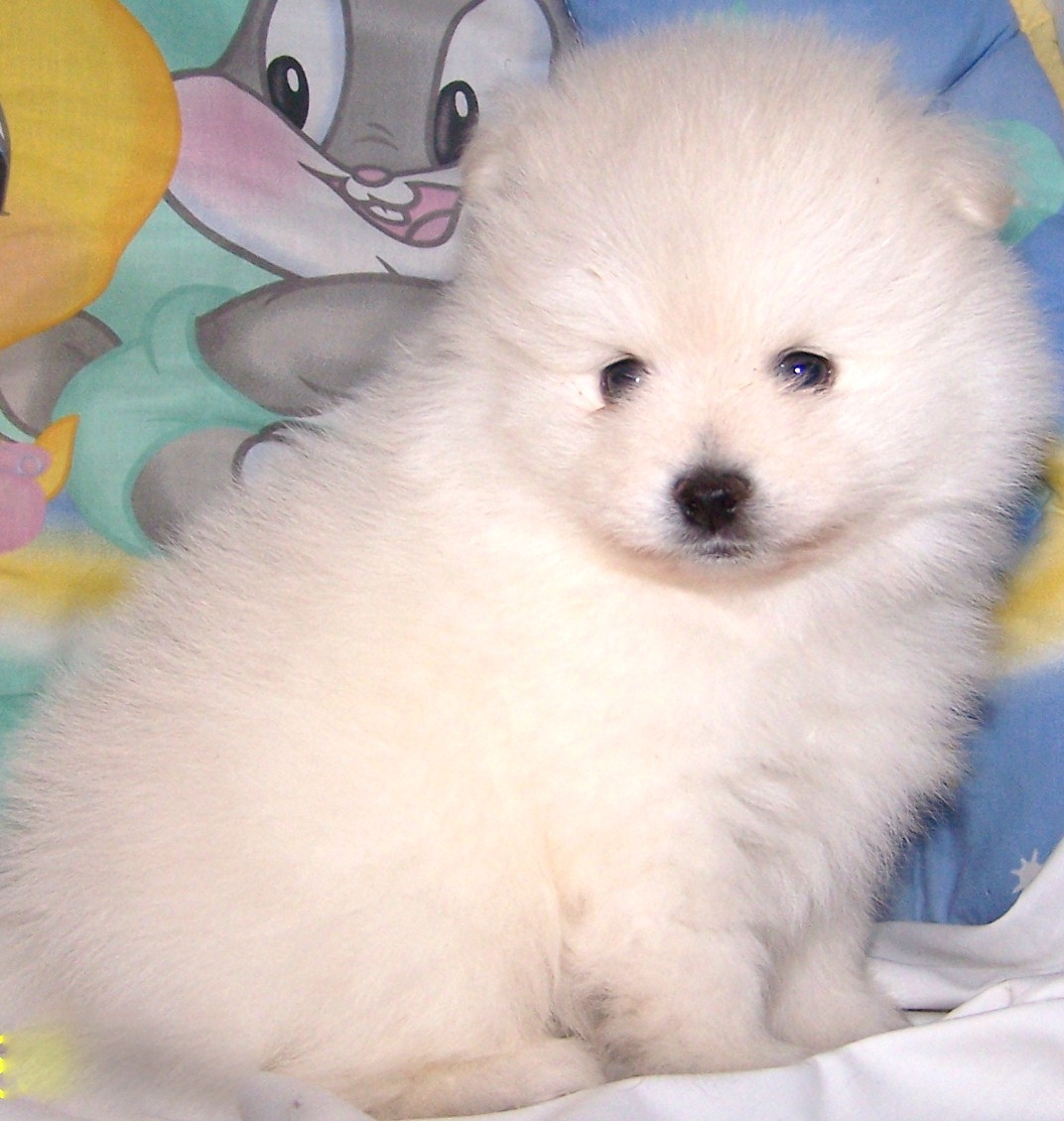 Male

LADIES FOURTH LITTER WAS BORN AUG 14 2012
SHE HAD A VERY SUPRISING LITTER ON THAT DATE
HER FIRST COLORED BABY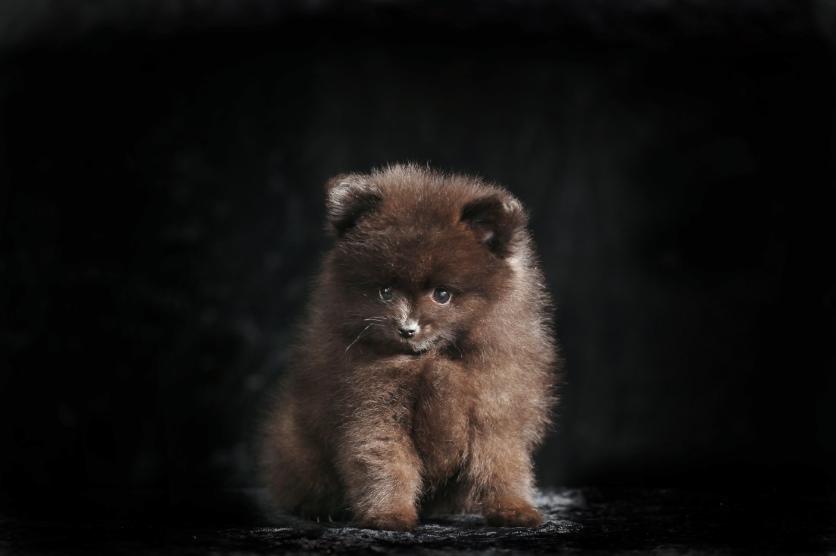 YES OUR LADY HAD A LITTLE BLACK BABY GIRL PAGE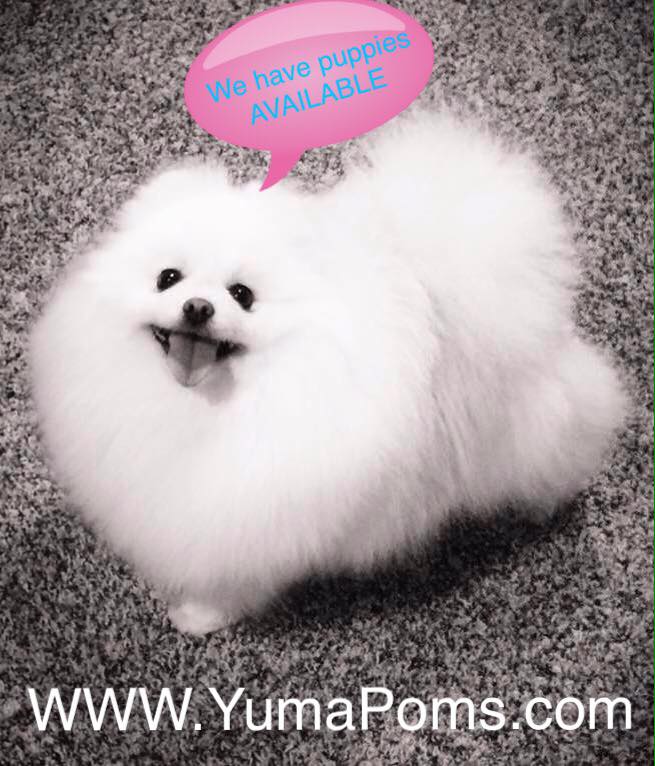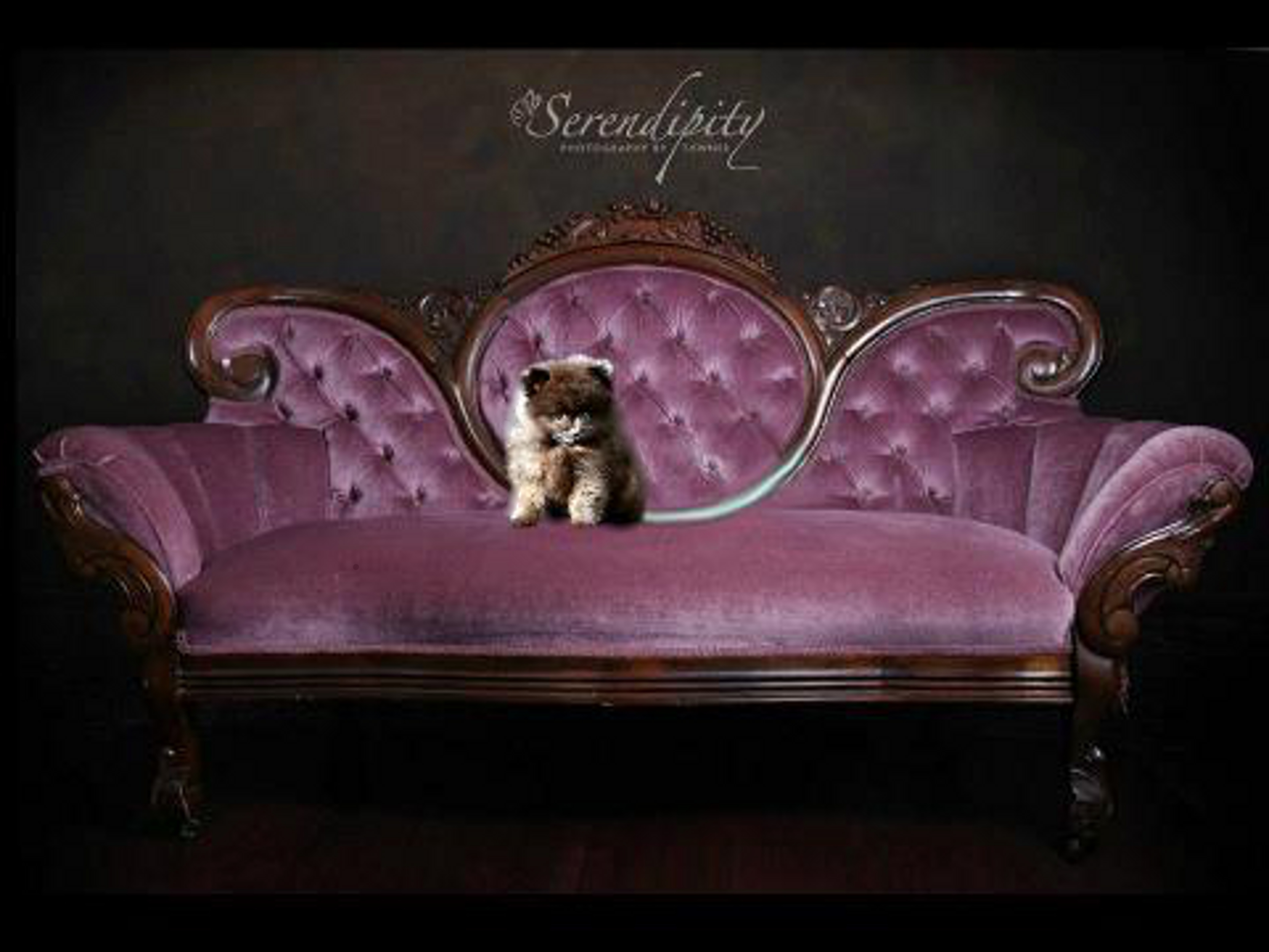 BOY WERE WE ALL SUPRISED !!
SHE ALSO HAD ONE LITTLE CREME GIRL IN HER LAST LITTER
YOU CAN SEE HER ON THE COUCH BELOW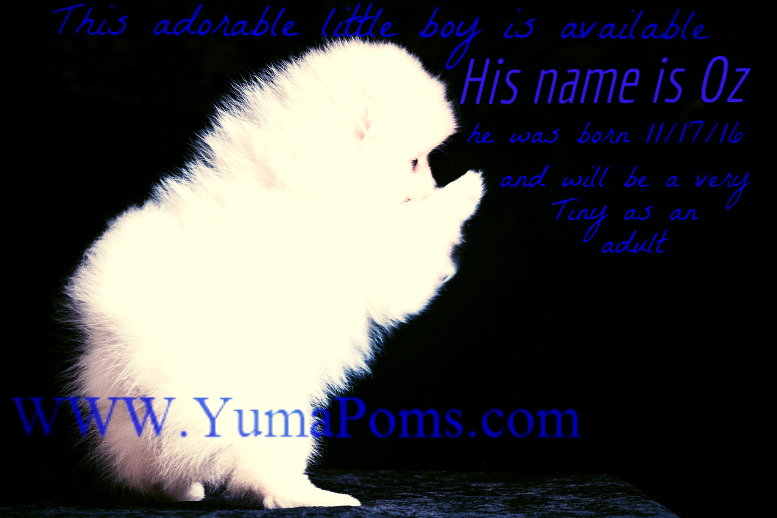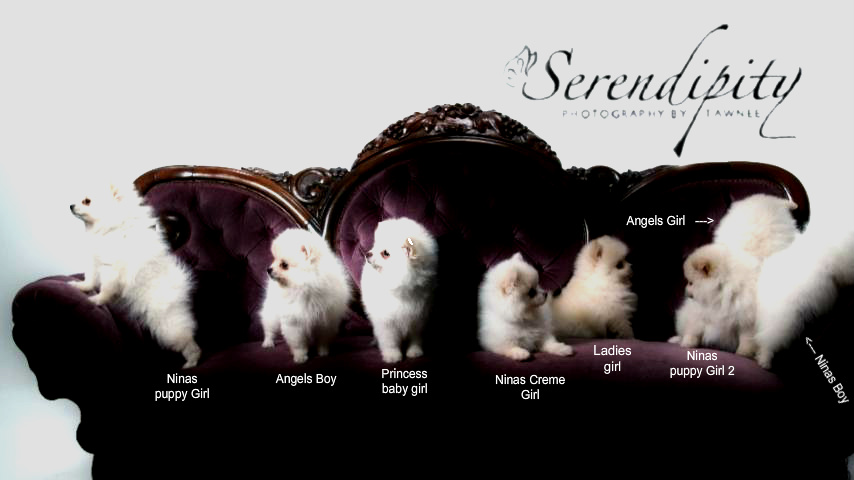 ALL MY GIRLS ( EXCEPT CREAMIE ) HAD LITTERS THAT SAME MONTH !!