BELOW ARE SOME MOVIES THAT I UP LOADED TO YOU TUBE .SOMETIMES THE LINKS BREAK . PLEASE LET ME KNOW IF THIS HAPPENS SO THAT I CAN CORRECT IT
BELOW IS AN EXAMPLE OF A TRUE ICE WHITE POMERANIAN . HIS NAME WAS WIGGLES . HE WAS ONE OF MY BREEDINGS . SIRE WAS THE ICE WHITE KNIGHT OF CAMELOT ( ICE WHITE ) DAM WAS THE ICE WHITE PRINCESS OF CAMELOT
THE PICTURE ON THE LEFT WAS TAKEN WHEN HE WAS 12 WEEKS OLD. THE PICTURE ON THE RIGHT WAS TAKEN ON THE DAY HE DIED. HE WAS A SMALL BOY . HE WEIGHED A LITTLE OVER THREE POUNDS AS AN ADULT . HE WAS A PERFECT EXAMPLE OF A ICE WHITE POMERANIAN.
...HE WAS A CLEAR BRIGHT ICE WHITE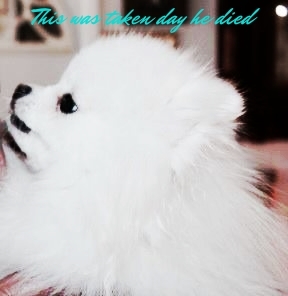 BELOW IS A VIEDO OF WIGGLES SHOWING THE DIFFERENT STAGES OF HIS GROWTH UP TO THE TIME HE BLEW HIS PUPPY COAT
BELOW IS AN EXAMPLE OF AN ICE WHITE AND A LIGHT CREME POMERANIAN.
NOTICE THE CREME BEHIND THE EARS IS MUCH DARKER IN A CREME POMERANIAN AND THE ENTIRE COAT IS A KIGHT CREAM COLOR
THE ONLY WHITE ON A CREME POM LIKE THIS ONE WILL BE THE UNDERCOAT . DO NOT MAKE THE MISTAKE IN THINKING THAT IT WILL EVENTUALLY TURN WHITE BECAUSE IT HAS A WHITE UNDER COAT . IT WILL NOT A CREAM IS ALWAYS A CREAM NO MATTER HOW LIGHT
The You Tube Video below shows an example of a Homozygous White Chocolate ( AKA extreme Beaver dilute) that carries two copies of the ( D ) Dilute gene . These two dilute genes , acting on the base color ( brown ) of this Pomeranian fade her coat to an almost white color. She is a daughter of The Ice White Knight of Camelot and Granddaughter of Ch. Charming Puff Daddy